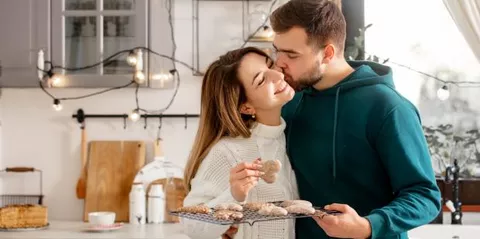 Every husband should show his love for his wife by doing nice things for her. It doesn't simply happen when they're dating or on their honeymoon.
When you're married, it's even more vital to do little things for your wife to make her feel happy, loved, and appreciated.
When couples stop making an attempt to keep the romance alive, their marriage might become vulnerable and unstable, therefore it truly helps when you put that additional effort into your relationship.
Here are 12 essential things that every husband should do to make his wife happy.
1. Make her feel loved at all times.
Tell her how much you adore her to make her feel special. When speaking with her, be polite and loving. Do small things every day to make her feel special and joyful.
Experiment with several ways to greet her in the morning, for example. Breakfast should be served to her in bed. Send her a love message on a random day for no reason other than to let her know how much you miss her and how wonderful she is.
2. Give her a compliment.
Make sure you tell your wife lovely and romantic things. Is she sporting a new hairstyle? Even if you don't like her haircut, tell her how beautiful she looks. Is she wearing a new outfit? Tell her she's beautiful.
Compliment her on everything she does, no matter how insignificant. This will show her that you are aware of minor details and changes in her appearance since you pay attentive attention. Praise her for trying and doing her best when she does something she isn't proud of the outcome of. It will improve her self-assurance.
Chores are not primarily the responsibility of the woman. She isn't a maid or a housekeeper, thus she shouldn't be doing things alone. Help her clean, wash the dishes, walk the dog, and so forth. Assist her with household chores.
Cook for her whenever you can. Clean up the place; don't delegate all of your responsibilities to her. Make her feel as if you both do a fair part of the chores, regardless of who is the family's breadwinner.
3. Go on a date with her.
You shouldn't stop going on dates just because you're married. You should continue to go on dates and spend time alone together as a married couple.
Because of your employment and other responsibilities, your time may not be as flexible as it once was, but try to make a date to take her out at least once a week. This will make her feel special, just like it did when you first started dating.
You can also go back to places where you and your partner used to go and reminisce about your times together there. This will aid in the strengthening of your relationship and marriage.
4. Remind her that she is stunning.
Say it while gazing her in the eyes. Say it with sincerity and love, as though you've never seen anybody else as lovely as she is. Allowing her to know that she has remained gorgeous throughout the years would make her feel confident and beautiful both inside and out, especially as she grows older.
5. Look after her.
When she's sick, take care of her and cook for her. Always be there for her when she needs you. Spend quality time with her and make an effort to show her that you love and care for her every day.
Talk to her about her troubles at work and try to alleviate her stress and anxiety. Come to her with wide arms, a hug, and a kiss. Certain things, despite the passage of time, never grow old. One of them is your love.
6. Give her gifts as a surprise.
It doesn't have to be expensive or lavish as long as it reminded you of her. Give her gifts that she will enjoy. There is no need for a specific occasion.
Give her gifts at random times just because you want to, and because she deserves it. Give her gifts that she will treasure for a lifetime.
No matter how basic the presents you offer are, they will always remind her of you wherever you are.
7. Provide her with a sense of safety.
Assure her that everything will turn out fine. Protect her and stand by her as she battles those who want to bring her down. Make her aware that you are always there for her, no matter what. Her battles will always be your battles, and you will always be on her side.
Establish that she is the only one for you and that your love for her is stronger than anything else to provide her emotional security. Send her notes expressing your longing for her and letting her know she is always on your mind.
Be frank and honest with one another. Tell her about your worries and fears. She will confide in you about her fears and insecurities as a result of this. Every relationship is built on trust, and once it is broken, it is extremely difficult to recover.
8. Encourage her to pursue her passions.
Allow her to know and believe that your marriage will never stand in the way of her goals, desires, or achievements. Instead, tell her that your marriage and you are the support systems she can rely on to help her achieve her goals.
Don't try to tell her what she wants in life. Talk to her if there's something you don't agree with. Explain your point of view to her, and when she explains hers, pay attention and grasp what she's saying.
9. Make eye contact with her.
Communication is crucial, especially when married couples are both working full-time. Communicate your concerns, feelings, and opinions to your wife at all times. Even if you are together every day, if you don't communicate well, it won't help you much.
Be honest about your feelings. Don't expect your wife to be aware of everything unless you tell her. You're not a mind-reading couple; you're a married couple.
Many marriages fail because of unrealistic expectations, such as that your spouse should be able to read your mind and instinctively comprehend you.
10. Make her a priority in your life.
Everything you do now that you're married is geared at making her a priority. You work because you care about her future. You married her because she is the most important person in your life. You spend time with her because she is the most important person in your life.
All of this is because you've admitted that she's the most important person in your life now. You should make it a priority to make her happy, cherished, and valued, and she should sense it.
Please don't harm her in any manner. Never hurt her in any way, whether it's verbally, physically, or emotionally. Give her the respect she deserves, for you married an incredible woman.
She deserves to be respected. Learn to pay attention to her and to take her words, thoughts, and feelings seriously. At the end of the day, when all else fails, the one thing you should remember is to treat her with respect.
11. Consult with her before making a decision.
Because you're a team, making decisions should be shared by both of you. You should not keep anything hidden from her or keep her in the dark.
She is already a part of every element of your existence. Respect and value her viewpoints. Listen to what she has to say and consider her viewpoints as valid as your own.
12. Be considerate of her family.
Respect the people that are essential in her life. People who are significant in her life are likely to be important in yours as well. As though they were your own blood, treat them well and respect them. This is a great way to show your wife how much she means to you.
You can also gain her family's trust and love by assuring them that she is in the appropriate, caring, and loving hands. Some people have difficulty getting along with their partners' families, but if you take the initial step toward establishing your worth, you will be treated like family in no time.
If you want your marriage to last, you'll have to put in a lot of effort.
Although love and romance are not always present in marriages, commitment is always the enduring aspect. Do the activities on the list to demonstrate your dedication to your wife.
In the end, what matters is that you and your wife figure out what works best for you.
The original version of this essay appeared in The Mind's Journal. With the author's permission, this article has been reprinted.
Content created and supplied by: Countrywidenews (via Opera News )
Opera News is a free to use platform and the views and opinions expressed herein are solely those of the author and do not represent, reflect or express the views of Opera News. Any/all written content and images displayed are provided by the blogger/author, appear herein as submitted by the blogger/author and are unedited by Opera News. Opera News does not consent to nor does it condone the posting of any content that violates the rights (including the copyrights) of any third party, nor content that may malign, inter alia, any religion, ethnic group, organization, gender, company, or individual. Opera News furthermore does not condone the use of our platform for the purposes encouraging/endorsing hate speech, violation of human rights and/or utterances of a defamatory nature. If the content contained herein violates any of your rights, including those of copyright, and/or violates any the above mentioned factors, you are requested to immediately notify us using via the following email address operanews-external(at)opera.com and/or report the article using the available reporting functionality built into our Platform See More