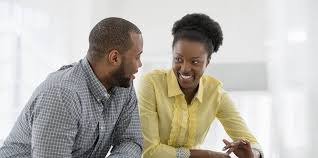 Most ladies always have questions they wish to ask their men but might be afraid because of the many questions, it is not a good idea to keep the questions to yourself because they can determine whether your relationship will last.
Here are questions ladies are wishing to ask their men.
1. Have you ever committed a crime or been arrested?
This might be awkward to question but it is very crucial for your safety in the relationship,You would not want to be in a relationship with a silent killer. It is important to know if your man has a criminal record or not.
2. Are you in debt?
It is good also to ask your partner if he has any debts. Being in a relationship with a partner who has huge debts will lead to serious financial problems which can negatively affect your relationship.
3. What's your phone password?
When issues get in your relationship, you shouldb not worried to ask for your partner's password. This might be not good but if he has nothing to hide, he should always give it to you. Women, however, find it difficult to ask this question.
4. Do you have a lot of female friends?
It is good to ask this question at the beginning of your relationship. This will help in setting things clear especially if your partner becomes a problem in the relationship.
Content created and supplied by: Toiwinnien (via Opera News )