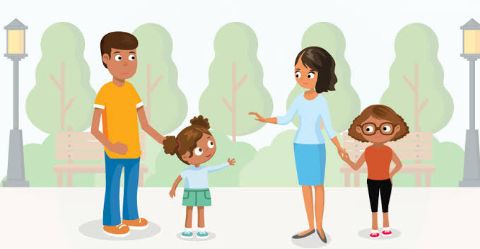 Any person that says blended families are not hard is a very big liar. Blended family dynamics are as complex as family gets. It it gets more comes if it is multilayered, that is, when there are multiple ethnicities involved, when there are multiple race involved, when one sibling from one parent likes another one of their new siblings from the other parent...but not the way siblings should like each other, when two sides of the family believe in different deities, and when siblings do not like each other at all. The good news is that there are ways to mend every relationship, including blended ones.
Have the entire blended family play games with each other every other weekend. Have the parents and siblings in this beautiful blend of personalities wind down during the weekends either by going outdoors and playing football or tennis or go-kart racing, or by staying indoors and engaging in an epic battle of pool table or chess. Games are stimulating, and take everyone's minds off of the bigger question of how to bring everyone together as one big happy family, especially when there are many children from both sides involved. There will always be that one sibling who prefers to withdraw and stay in their room to listen to music or do something else, but everyone should be persuaded to involve themselves in this fun weekend. The person who does not want to play or interact with others can be put in charge of the barbecue joint, and after a while they will catch up to the fun.
Have parents interact individually with a child from the other parent and get to know them deeply. This does not have to be everyday, and it of course requires a go-ahead from the child's biological parents who now makes up one half of this marriage. These two strangers can start by helping each other in the kitchen or in doing whatever house chores. They can then watch movies together, or go to a concert by the child's favourite artist. The new parent can help them out in their homework. The new parents trying to warm up to this child should not try so hard to be their friend that they forget to be their parent, because they still are the child's parent even if not biological. The parent should also not cross boundaries by doing anything that will make the child uncomfortable. It takes time to build this relationship.
What the parents can do beforehand to avoid unnecessary blending struggles is to introduce their partner and their partner's child(ren) to their own as soon as they figure out that this relationship is getting serious. This gives them time to, as they prepare to formalise their union, also monitor how their separate families interact with each other and what they can do to smooth out the process of moving in together in case there are young children involved.
Content created and supplied by: Achieng'101 (via Opera News )