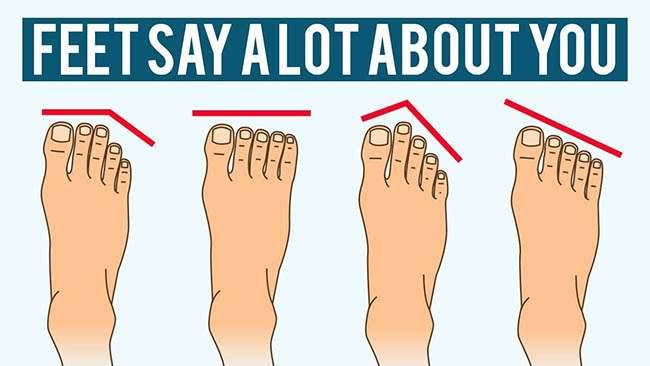 ‍‍‍‍‍‍‍‍‍‍‍‍‍Stuff about ourselves that we don't pay attention to may often say a lot about who we are. The shape of your modest toes also known as the shape of your feet reveals some fascinating information about your personality that you might not be aware of. So, take a closer look at your toes because the shapes below show various personality traits.




1 Egyptian Toe
The most common form of toe shape is this one. People with this toe shape which is described by a long big toe and other toes aligned at a 45 degree angle, are imaginative and often come up with new ideas. They can find it difficult to concentrate because their mind is constantly buzzing with ideas. Furthermore, they love being pampered to a high degree and have a royal feeling about them. Their unique selling point is that they are very polite and can get along with even the most difficult people.
2. Romans Toe
You have the Roman foot if your big toe and the two toes beside it are the same size and the other two toes taper in sequence. If you have this form, you were destined to be a king. Your personality is exciting and dynamic and you have a great deal of talent. You have an outgoing and adventure-seeking personality. You also have a huge number of people who depend on you though you might not realize it.


3 Greek Toe
Do you have a longer second toe than your main toe? Then that's the Greek toes also known as the "Fire" or "Flame foot" Others find your attitude a little difficult to deal with and you put a high emphasis on your values. That said, you're really mature and never fail to recognize the important things in life. One thing I like about you is that you're very athletic and active, and despite your maturity, you can be impulsive at times.
4. The Peasant Toes
The highlight of the peasant toe shape is that almost all of your toes are the same length with the exception of your big toe which might be slightly longer. What it says about you is that, you are a good counselor, someone who patiently listens to what others have to say especially about the concerns of your loved ones. You value personal relationships over money and belongings. You adore love more than anything else in the world! Aside from that, you are thoughtful and trustworthy.
5 The Celtic Toes
The Greek foot form is very similar to the Celtic foot shape. The toes after the second toe in the Greek foot taper angularly, while they take on a square-ish shape in the Celtic foot. You are charming, adventurous, and thankful for everything you have if you have toes like Celtics. You have a tendency to concentrate on the positive aspects of situations rather than the negative aspects. As you want to support people all around you, your positivity has a ripple effect.
6 Extremely Small Toes
The small toe which resembles the Egyptian toe in appearance is exceedingly small in this foot shape. You have an expressive personality if you have this toe shape. However, there is a part of yourself that you want to keep secret protecting it with a fierceness. This hidden element may be a personal problem or a subject you'd rather not speak about. Especially if you have the option of not talking about it.
7. Toes with Wide gaps
Wide-set toes, also known as traveler's feet are just what they sound like. This shape is defined by large gaps between each toe implying that your toes are spread apart. This style of foot shows that you have a deep desire to explore and are actively seeking new experiences and adventures.
8 Sretched Toes
Your big toe is separated from the rest of your toes which form a close-knit cluster in this foot formation. If you have this, you are fiercely self-sufficient and don't need assistance with anything. You can't bear being confined and can only be comfortable when you're outside or in open spaces. Arguing is your thing because you enjoy a good debate.
Content created and supplied by: Cheryl-updates (via Opera News )