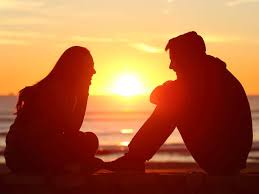 Most of us want to concentrate on love falling and use the sense of love to assess a relationship's length. It is easy to fall in love, almost effortless, but it is also not difficult to lose this feeling of love.
It is always fun and enjoyable in a new relationship to a court or being courted. We always think of the new person initially and want to spend all our time together and share new experiences. We want to show how we feel with cards, flowers, or a sweet SMS.
Feelings can be intoxicating, however. There seems to be no one who wants to talk about how those love feelings can disappear into thin air, how love needs to remain alive, and how we all have to choose to be in love.
Do we want to love this person, or are we going to let this person go? This is the major question in almost all relationships recently. Who we love is a choice as much as it is a sensation. Staying in love takes a duty. When the new relationship's rosy glitter is gone, the partners reach a point they are in need of deciding what the next step they have to take.
Once we have decided to find and commit to the person we want to be, work begins. A large proportion of this work makes many other choices.
Once a person has reached a choice to stay with the other, many faults are accompanied. It is a choice to see the good in our partner every day, not focusing on the pessimistic things that upset us. We must accept it and love it as it is. If we go into a relationship and think we can change someone, we set up our relationship, and we underperform. We all have faults and quirks and, in some ways, are strange. It is part of love to accept those differences.
Do you know one of the major relationship errors we regularly make? Is trying to turn our partner into us. We can completely disregard the little, obnoxious little things that our partner can do. For instance, if your mate forgets to take away the garbage or leave the cup of toothpaste, it is essential to talk to them about it, or you can as well accept that.
If we are unhappy about how things are in our partnership, it is easy to focus on what we don't get out of. Instead, a healthier answer is to see what we can do for our partners instead of concentrating on what they don't do for us. We should always support our partner, as we cannot expect something that we are not prepared to give ourselves from our partner.
Another interesting consideration that we can make is to recognize why we have committed ourselves to this person. Our connection will not always be excellent and serious discussions, and disagreements will take place. There will be difficult times and even challenging moments, through which we will have to work together. In this time, the best way to survive is to remember to be courteous, recognize our dedication, and work together. In these times, it helps to remember why we first wanted to love them.
Everything about love is about choices. We decide to see the good, ignore the little one, find out what we can do for our partner, and remember why we love our partner. Love is what it looks like to do these things, and with this work comes the wonderful honor of staying in love.
Content created and supplied by: Quencyquin (via Opera News )