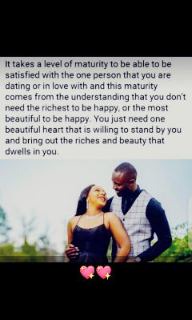 Many men appear to have overcome anger in the public, but they are so intolerant with their wives at home. They take insults seemingly with grace from outsiders, but react violently if their wives should insult them. Several sisters are very submissive to men out there, they do everything to please the pastor and the brothers who are elders in the church, but Argue with their own husbands. They exhibit much reluctance and sluggishness in taking instructions from their own husbands.
Several women find it easy to learn from other men outside but only struggle to be taught by the man God has placed them under as the head. This possibly is the reason why many men could not teach their wives how to drive... It is questions upon questions.
I must say again and again that the way you contact youself at home, between you and your wife is the most authentic measurement of your spirituality. Your spirituality at home is the reality of your growth in the christian life. Mark this very well.. Anything outside this is (fake).
Izoo027
Content created and supplied by: Izoo027 (via Opera News )