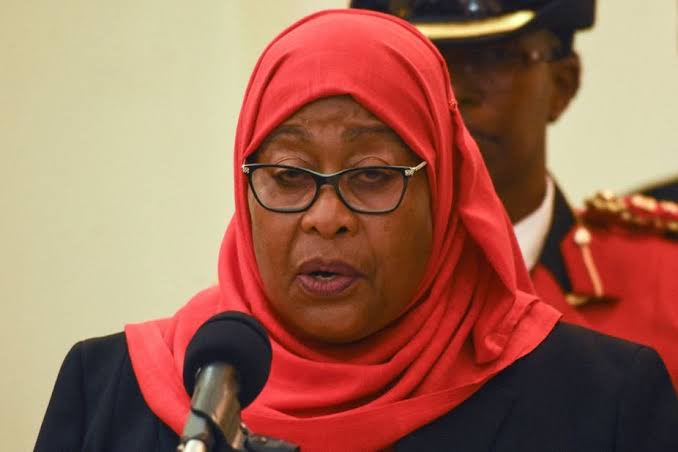 Days after losing her close friend and boss, Tanzanian Head of State president Samia Suluhu Hassan has been thrown into mourning once again.
This is after learning of the death of the Bishops of the Catholic Diocese of Njombe Rev. Father Bishop Alfred Maluma.
She has described him as having been a good person who truly adored development at all levels. She has also remembered him as having been a person who was always ready to help the government.
She has wished all catjoli faithfuls and the people of Jombe strength as they mourn the death of their own.
"I am saddened by the news of the death of the Bishop of the Catholic Diocese of Njombe Rev. Father Bishop Alfred Maluma. He was a good man, a lover of development and willing to cooperate with the Government at all times. I offer my condolences to all Catholics, Wananjombe and all those affected by this tragedy."President Samia Hassan Suluhu.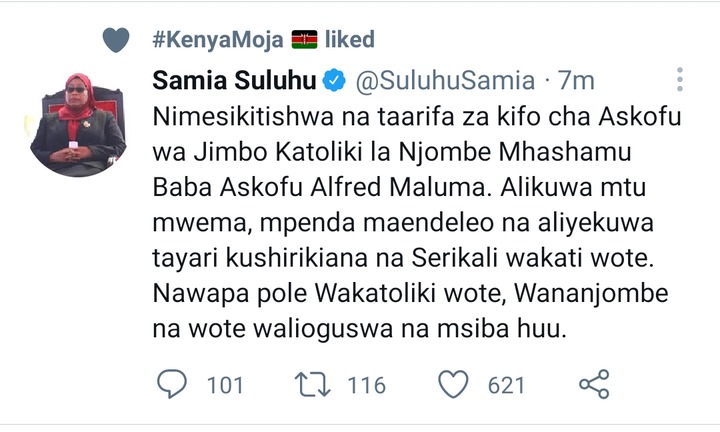 Tanzanians have also overwhelmingly joined her in mourning the death of the late most of them noting that he was a humble religious leader who served with a lot of passion.
Below are messages of condolences from Tanzanians.
"May he rest in peace. Mother you have our prayers morning and night we have the means to ask God to protect you from all evil, to protect you from diseases and troubles of the sea and servants, And we ask Allah to give you life and thaabit guidance to lead our nation we love you and we are behind you mother,"Mtanzania.
"R.I.P Father Bishop ... Mother, I congratulate you very much for giving us the children of Tanzania, but only a request, Mother Tigo, have stopped paying for communication costs, that is, for a day the package is only 2000.Order them then mother we ask you children."Martin
"RIP father Bishop.Mom I'm going to pin my tweet (it's just a small post) thank you for watching. Please allow me to come on behalf of my son and explain to you more broadly my intentions and intentions on the issue of Special Children (especially those with brain problems)."Jane
"Nimesikitishwa na taarifa za kifo cha Askofu wa Jimbo Katoliki la Njombe Mhashamu Baba Askofu Alfred Maluma. Alikuwa mtu mwema, mpenda maendeleo na aliyekuwa tayari kushirikiana na Serikali wakati wote. Nawapa pole Wakatoliki wote, Wananjombe na wote walioguswa na msiba huu."Samia Suluhu Hassan.
Content created and supplied by: JNews.KE (via Opera News )