This community in Kenya is composed of 100,000 descendants which originated from the territory of Sudan. They came into Kenya over 100 years ago to serve in the East Africa rifles, a regiment of the British colonial armed forces.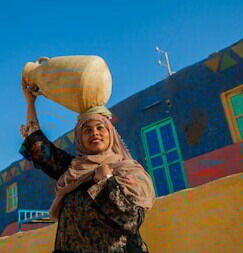 On demolization the Colonial authorities refused to allow them return to Sudan. They made them settle in Kibera Nairobi and other parts of Kenya where they still live today.
Currently the citizenship of Kenyan Nubians is still not assured. They have to go through a long and complex vetting procedure to acquire the ID cards.
The Nubians comprises of Muru, Kotoria, Dinka, Lendu, Bari and Kuku. Lendu are from Congo while the rest are from Sudan.
They speak Nobiin or Mahas which is a Northern Nubian language of the Milo Saharan language.
Today Nubians practice Islam which involves syncretism of Islam and traditional for lo beliefs. In ancient time they practiced a mixture of traditional religion and Egyptian religion.
Nubians today culture can still be found in styles of pottery, furniture, jewelry and fashion.
Content created and supplied by: Congeror (via Opera News )