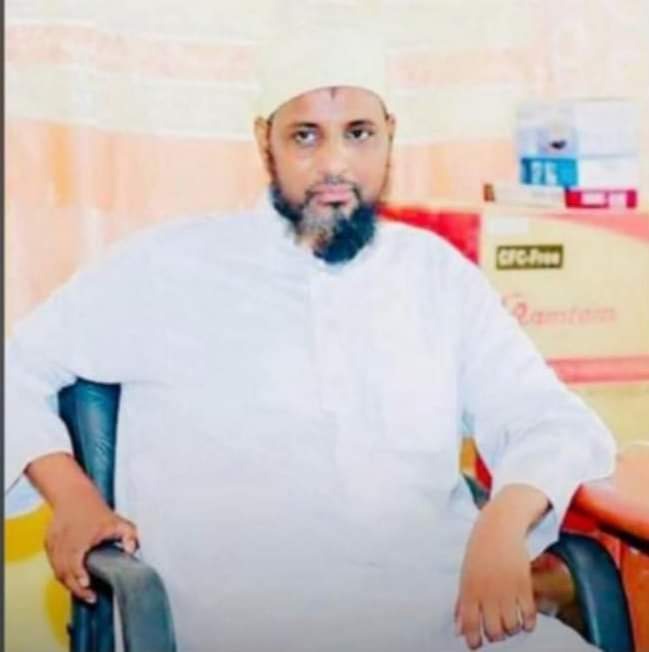 Garisa township member of parliament Aden Duale has send a message of condolences to the family and friends Dr Feisal Shariff.
Through his official Facebook page Duale described the deceased as a great Muslim scholar.
"Inna Lillahi Wa Inna ilayhi raj'iun (We surely belong to Allah and Him, we shall return). Following the death of Dr Feisal Shariff Mohamed in Nairobi. He was a prominent Muslim scholar and Mufti from my constituency. The Muslim Umma and Garissa religious institutions will miss his guidance and teachings. He was the Vice-Chancellor of Almustaqbal Islamic University who advocated for peace, harmony tolerance among different communities during his lifetime," said the Garisa township member of parliament.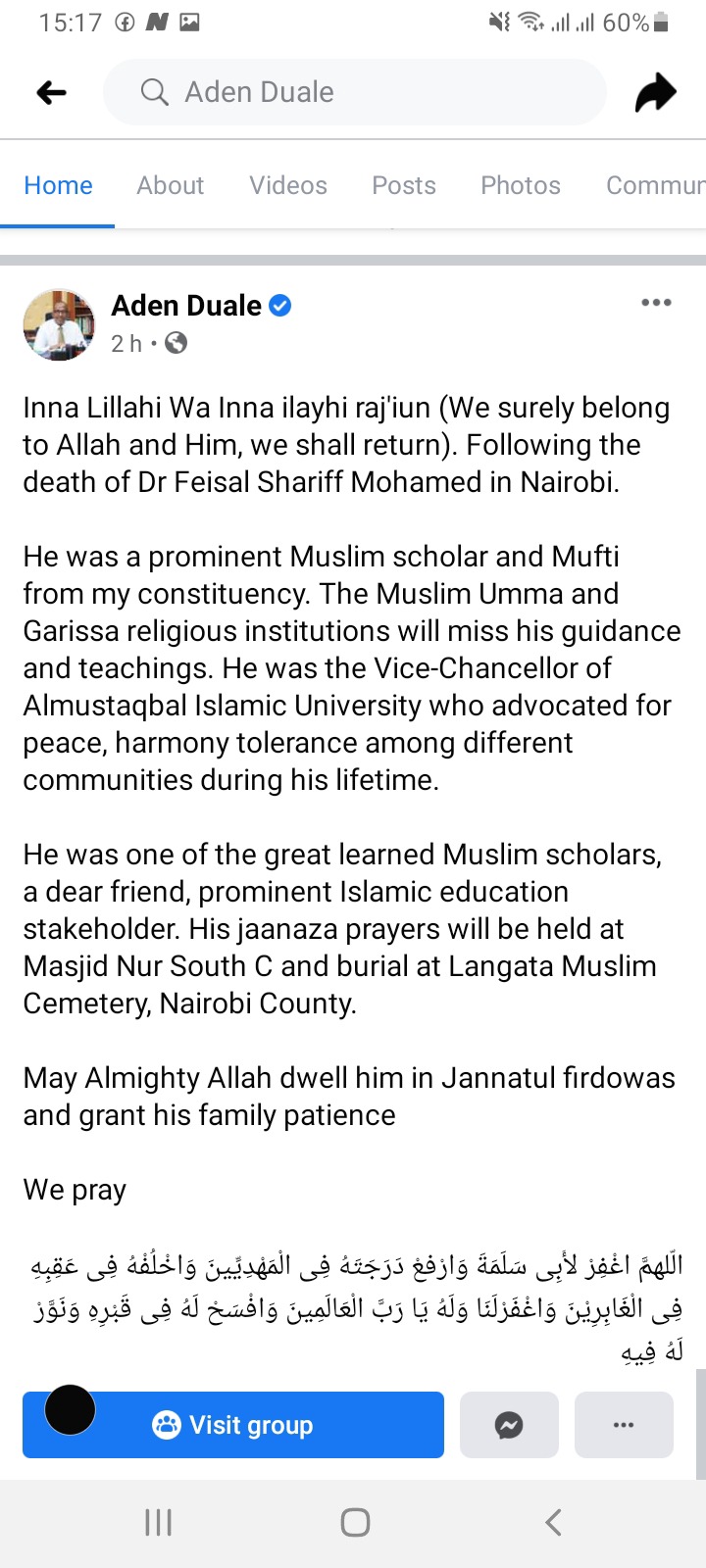 Duale is a staunch supporter of the deputy president William Ruto's 2022 presidential bid. 
"He was one of the great learned Muslim scholars, a dear friend, prominent Islamic education stakeholder. His jaanaza prayers will be held at Masjid Nur South C and burial at Langata Muslim Cemetery, Nairobi County. May Almighty Allah dwell him in Jannatul firdowas and grant his family patience," he added.
Kenyans reacted to his Facebook page post here are some of their comments.
Mohamed Adan says "May Allah grant him janatul firdowsa and Allah give Sabar the family of late amiin,"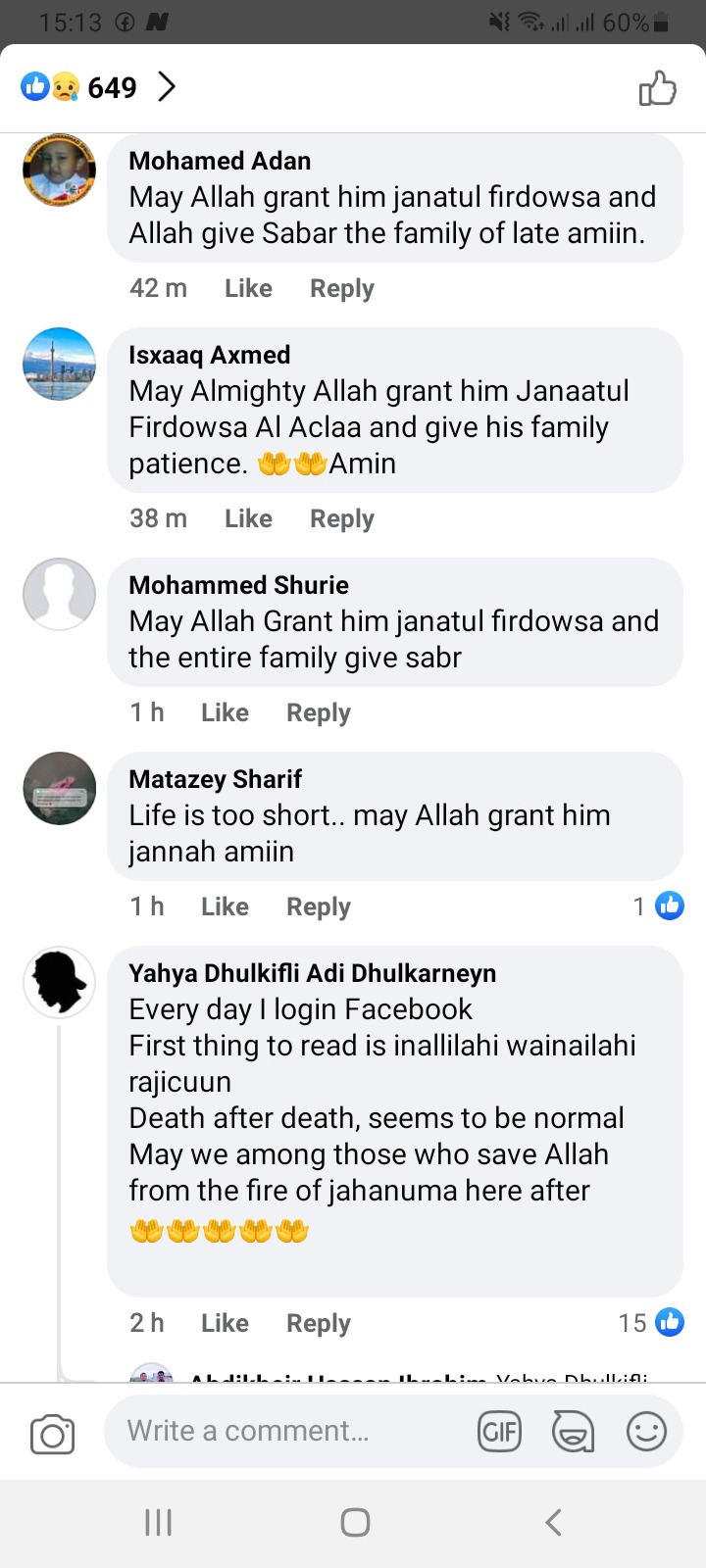 Isaac Axmed says "May Almighty Allah grant him Janaatul Firdowsa Al Aclaa and give his family patience. 🤲🤲Amin,"
Yahya Adi wrote "Every day I login Facebook First thing to read is inallilahi wainailahi rajicuun .Death after death, seems to be normal .May we among those who save Allah from the fire of jahanuma here after,"
Moha Tofour says "Inaa lillahi wainaa ileyhi raajicun,may the Almighty God forgive his shortcomings, Amiin,Amiin,"
Content created and supplied by: ElvanisRonoh (via Opera News )