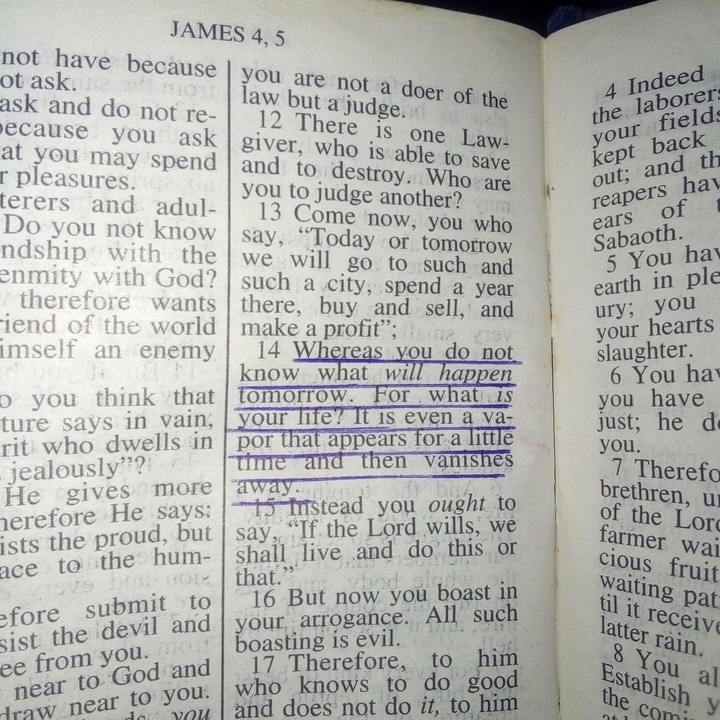 Good afternoon. While analysing Bible verses this is the verse that make me emotional and cry today. Assurance as a believer that if you confess with your mouth the Lord Christ Jesus and believe in your heart that God has raise Him from the Dead, you will be saved.
The word has come to an end please everyone should repent and turn away from sin. The scripture says in Proverb 13:20, "he who walk with with wise men will be wise, but the combination of fools will be destroyed. Evil pursue sinners, but to the righteous, good shall be paid."
In the book of James 4:14 the scripture says, "whereas you do not know what will happen tommorow. For what is your life? It is even a vapor that appears for a little time and then vanished away."
To everyone reading this article repent away from your sin because you don't know what tomorrow might be. Seek the Almighty God when there is still for it is written in the book 1 John 1:9 which says, "if we confess our sins, He is faithful and just to forgive us our sins and to cleanse us from all unrighteousness."
Kindly share this article let it reach the whole world also follow me and you can also comment. God bless you, God bless Kenya, God bless everyone on Earth.
Content created and supplied by: Tonyowino (via Opera News )