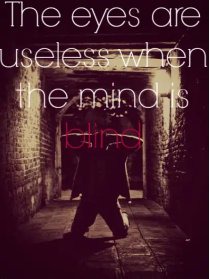 There are many causes for spiritual blindness such as Satan, pride, ignorance, following blind guides, caring what others think, and more.
When you're spiritual blind you can't see Christ because you hardened your heart and won't come to the knowledge of the truth.Everyone knows God is real, but people reject him because they love their sin and don't want to submit him.
Then, Satan comes in the picture and blinds the mind of unbelievers so that they won't come to the truth.
When you're spiritual blind you are separated from God and you will continue to lie to yourself; God is not real, the Bible is false,hell is fake, I'm a good person, Jesus was just a man,etc.
Spiritual blindness is the reason that you can preach biblical things to false Christians, but they still find excuses for their sin and rebellion.
You can give them scripture after scripture, but they will find anything they can to keep and justify their sin. Have you ever wondered how you can continuously tell someone the gospel of Christ and they agree with what you say, but they never repent, and trust in Christ?.
The spiritually blind person must cry out to God, but pride stops them. Pride stops people from seeking the truth and opening up their minds to the truth. People choose to remain ignorant.
Believers have been given the spirit of God to fight off Satan. The world is in darkness and Jesus Christ is the light.Open your eyes, you must lose the pride, humble yourself, and seek the light, which is Jesus Christ.
Content created and supplied by: Cederzd (via Opera News )