Has it ever occurred to you why Muslims have a tendency to bury the dead quickly? Well if that question has been an issue to you, then this article answers all that.
First, according to the Muslim culture, the burial of the deceased is a collective obligation (farḍ kifāyah) and because of that, the entire Muslim community will be guilty if a Muslim body is not buried, unless the burial was beyond their knowledge or capacity.
When a person is confirmed dead, their eyes and mouth are closed before three crucial rituals are performed and these are:
1 Washing of the corpse
2) Shrouding of the body
3) Saying of the "dua" prayer
Washing the bodies of the dead is considered a collective duty for Muslims and so it has to take place faster to avoid delaying of the burial. After washing, the body is properly dried and then covered with a sheet. Covering of the corpse (shrouding) is done using three white sheets which are first spread out and stacked one upon the other. The body is then placed on the sheets and the head is positioned such that it faces Mecca. The left hand of the deceased is placed on the chest, and finally the right hand is then placed on top of the left. Finally, family and friends of the departed then say "dua" a prayer that is meant to ask Allah to forgive the sins of their loved one.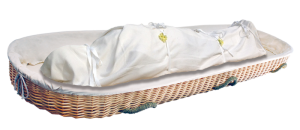 Body wrapped in shroud Courtesy.
Burial then takes place within 24 hours and the body is laid to rest.
Essence of immediate burial
1) Burial takes place within 24 hours because in the Islamic religion, a dead person is considered unclean, so they are not supposed to interact with the living because it will also make them unclean.
2) It helps to prevent the body from emitting an odor especially in countries where temperatures are high and there are insufficient means to refrigerate the dead bodies.
3) It helps to alleviate the pain that family members and their loved ones might suffer. 
Do they practice body cremation?
No. Cremation is prohibited under Islamic law because, unlike in some cultures, it is considered a violation of the dignity of the human body.
Content created and supplied by: Mrblogger (via Opera News )