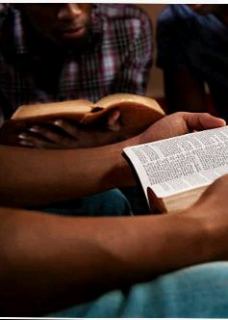 "Finally, my brethren, be strong in the Lord and in the power of His might. Put on the whole armor of God, that you may be able to stand against the wiles of the devil. For we do not wrestle against flesh and blood, but against principalities, against powers, against the rulers of the darkness of this age, against spiritual hosts of wickedness in the heavenly places." (Ephesians 6:10-12)
We are to be strong in the Lord, put on the full armor, and wrestle against the forces of evil. 
Prayer Points
1. Pray that God would strengthen you as a believer – that he would fill you afresh with the Holy Spirit.
2. "Praise be to the LORD my Rock, who trains my hands for war, my fingers for battle." (Psalm 144:1) Thank God for being our Rock – the One in whom we stand as we resist the enemy. Ask God to train your hands for war (give you strength) and your fingers for battle (give you skill in prayer).
3. Armor – We are to put on (wear into our lives and character) the pieces of the armor: the belt of truth, breastplate of righteousness, readiness of the gospel of peace, shield of faith, the helmet of salvation, the sword of the spirit. Pray that these elements would be strengthened in your life. (Ephesians 6:14-17)
4. In prayer stand up against the forces of lies, dishonesty, and deception in your country – in the media, in our cultures, in our daily lives, in politics, in business and religion. Pray that the light of truth will shine to expose and judge these forces, and free the people as they know the truth (John 8:32)
5. In prayer stand up against the forces of perversion in our nation – especially sexual perversion: pornography, homosexuality, prostitution, and sexual violence. Pray that sex would be dignified and many will turn from perversion. Pray also for sexual healing for those who have been broken, wounded, and hurt in this area. 
6. In prayer stand against the spirit of division – the devil is the one who divides. Resist the forces of division in the Church, in politics, in governance, on tribal lines, and in society generally. 
7. Thank God for the victories that he gives us daily against the enemy. And that he would give us this season against disease and fear (1 Corinthians 15:57).
In praise and worship, we see victory over the forces of darkness. Jehoshaphat won a key battle through praise and worship. (2 Chronicles 20) Take time to sing and worship and declare the praises of God over the nation. Use Psalm 136 and mention the things God has done for us in our nation over the years.
Declarations: Psalm 27
Izoo027
Content created and supplied by: Izoo027 (via Opera News )