The bible is a book that guides us spiritually about the word of God. It contains so many books with lots of chapters and verses. But we have emergency chapters and verses that we can call to when in need.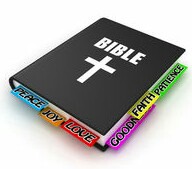 When in sorrow call John 14. Men have failed you - Psalms 27. You have sinned: Psalms 51. Worried about anything - Mathew 6:19-34. In danger - Ps. 91, when God seems far away Psalms 139. Your faith needs stirring - Hebrews 11.
If you feel lonely and fearful - Ps. 23. You are bitter and critical call 1 Cor. 13. Feeling down and out call Romans 8:31-39. You want peace and rest - Mathew 11:25-30. When the world seems bigger than God call psalms 90. Want some Christian assurance - Romans 8:1-30. Leaving home for work or traveling - Ps. 121. If your prayers grow narrow or selfish call: Psalms 67.
Need some courage for a task; Joshua 1. Thinking of investments or returns call Mark 10. How to get along with your fellow human call Romans 12. For great invention or opportunity call Isaiah 55. Paul's secrets of happiness - Colossians 3:12-17. For ideas of Christianity - 2 Corinthians 5:15-19. When depressed call psalms 27, to be fruitful call John 15.
If your pocket book is empty - Psalms 37. Loosing confidence in people - 1 Cor. 13. You seem unkind call John 15. Discouraged about your work - Psalm 126. Finding the world growing small and you great cal Psalm 19.
Content created and supplied by: Congeror (via Opera News )