It is said that one day Jesus and his disciples set out for a mission. On their way,Jusus told then to carry stones and Judas decided to carry very small stones that could only fit his pocket. At midday when they were hungry Jusus turned the stones they carried into breads. On that day Judas survived on a cookie.
Next time they were told to carry stones Judas carried a very big stone that he could hardly walk with it on his head. When they got near a fig try jesus told them to through stones and hit the fruits one at a turn. Judas could rarely through his stone at a height twice his own height and thus he starved for the day.
The third time they were told to carry stones Judas decided to carry a big and a small stone. Then they got at a wild place with thorny bushes that they could rarely cross bare footed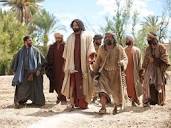 . Jesus turned their stones into shoes and Judas had one oversize shoes and another undersize shoes. All this occasions made Judas so bitter.
Content created and supplied by: Maputia373 (via Opera News )