Threats of fear invade anyone's heart. It will shake the courage within the deepest chamber of the soul. The panic and anxiety from this threat will inject the heart and mind to create chaos inside. Troubled life will be the outcome of its relentless invasion and dominion. But the threat of fear will only rule and reign if we let it enter and control the battleground. The right and fearless response are necessary to counteract and overcome the terrifying threat of fear.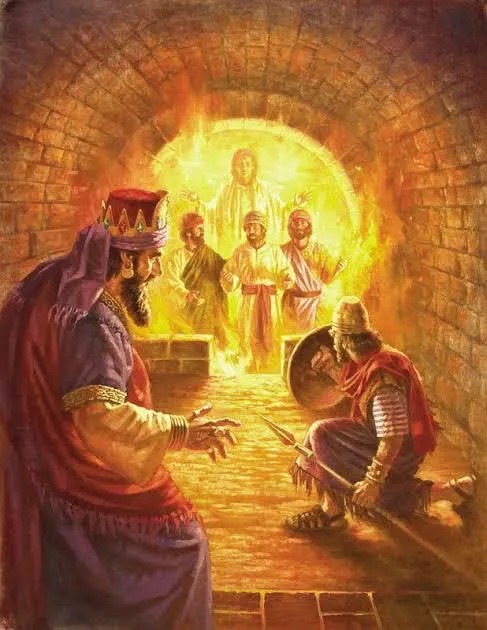 Fear will snatch our peace, joy, focus, and even our faith in God. The entrance of fear is the starting point of panic, havoc, and trouble. But God's word offers the best remedies on how to overcome the terror of fear in our lives. It will provide the best antibodies against the power of fear.
I have selected eight powerful passages in the New International Version of the Holy Bible that will eliminate the venomous fangs of the terrifying power of fear.
1. Isaiah 41:10
"So do not fear, for I am with you; do not be dismayed, for I am your God.I will strengthen you and help you;I will uphold you with my righteous right hand."
The terror of fear will let us feel that God is distant from us. Where is God when I need him? Where is God in my painful sufferings? But this powerful promise of God to Israel through prophet Isaiah will exterminate the terror of fear within our heart for his abiding presence and help will escort our journey. The disturbance and panic of fear will not overtake us because he is with us. The journey with God is a journey that fears not to the terror of fear.
2. 2 Kings 6:16
"Those who are with us are more than those who are with them."
The terror of fear will let us feel that we are hopeless and powerless to overcome its frightening acts. The fearful and scary scenery of terror did not trouble the prophet's heart and mind because of the divine reinforcement that dwells on them.
This powerful passage will suppress the terror of fear by the cure it brings by implanting God's help and power through his mighty reinforcement. you need only to be still."
3. Exodus 14:13
"Moses answered the people, "Do not be afraid. Stand firm and you will see the deliverance the LORD will bring you today. The Egyptians you see today you will never see again. The LORD will fight for you; you need only to be still."
The terror of fear will let us feel that God is neglecting or failing us. It will tell us that God's plan is not working. It will tell us that God is lying.However, Moses pacifies the terrifying heart of the nation of Israel when they saw the pursuing force of Egypt in a trap and no way out situation. He encourages them to stand firm and leave the fear that conquers their heart because God will bring deliverance by fighting for them. This powerful passage will extinguish the fiery fire of fear coming near to us when God's hands are fighting for us to bring the comfort of liberation and deliverance. God's protective, delivering, and mighty hands will keep us safe and secure and will make a way for deliverance when there seems to be no way out in our dark and gloomy conditions.
4. Psalms 23:4
"Even though I walkthrough the darkest valley,I will fear no evil,for you are with me;your rod and your staff,they comfort me." 
The terror of fear will let us feel that we are vulnerable and defenseless. David motivates himself to combat against the terror of fear with the presence of his heavenly shepherd guarding and defending him in the darkest valley of evils and dangers.
This powerful verse will unseat the rule of fear in our hearts because the Shepherd of our soul is on our side. We can overrule the terror of fear by the comforting rod and staff of our heavenly shepherd providing defense and protection on us.
5. Deuteronomy 31:6
"Be strong and courageous. Do not be afraid or terrified because of them, for the LORD your God goes with you; he will never leave you nor forsake you."
The terror of fear will let us feel that God is untrue and unfaithful. It will tell us that no support and relief is coming from God when he is silent to our prayers and our sufferings. It will bring the conclusion that God is forsaking and defecting us. Moses motivates the nation of Israel before entering the promised land about the fear of the nations living on the land. God's faithfulness will abide on them because he will never leave nor forsake them as to how he cared for them in the wilderness for forty years.
This powerful verse will devour the terror of fear because of God's constant faithfulness. God will never abandon or resign to those who trust in him. We can repel the terror of fear by relying and trusting on God's endless faithfulness.
6. Psalms 27:1
"The LORD is my light and my salvation whom shall I fear?The LORD is the stronghold of my life—of whom shall I be afraid?" 
The terror of fear will let us feel that we are fragile and are not safe. However, David courageously declares whom he shall fear since the Lord is his light and salvation, whom he shall afraid since the Lord is his stronghold. This powerful verse will kill the terror of fear by God's guiding, saving, and safe-keeping activities. God's light will lead us to the right way, actions, and decisions we make. We can resist the terror of fear through God's light, salvation, and safe dwelling place.
7. Luke 8:50
"Hearing this, Jesus said to Jairus, "Don't be afraid; just believe, and she will be healed."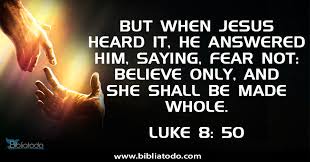 The terror of fear will let us feel that bad news will always be our daily bread. It will tell us God is not listening to our prayers. Before reaching home with Jesus the bad news that his daughter was dead hammered his heart.
But Jesus gives him the powerful assurance to give him victory over the terror of fear, don't be afraid; This powerful verse will destroy the foundation of fear through the assurance of God's words that everything will be alright if we believe. The good news from God will consume the fear's bad news. God's answers and provisions will handle our needy and desperate situation. We can uproot the weeds of the terror of fear by believing the good news from God's words.
8. Romans 8:31
"What, then, shall we say in response to these things? If God is for us, who can be against us?"
The terror of fear will let us feel that we are all alone in our battle. Paul asks the question to the believers at Rome showcasing who can stand against them if the omnipotent God is fighting for them. This powerful verse will demolish the panic of our terror-filled heart because the omnipotent power is fighting on our side at all angles. The battle we face as we obey God's will for the advancement of his kingdom will be a tough war but we can be sure that we are more than conquers through God's omnipotent power aiding us. We can repulse the terror of fear coming from the adversary, hardships, and uncertain circumstances by trusting and relying on God's working and powerful support operating on our side.
The terror of fear in our lives will lose its foothold and stand, and its entrance will be blocked if we inject this powerful antidote of God's word in our hearts and mind. The frightening results of fear will evacuate if God and his words start to operate. Our continuing trust and reliance on God's words, promises, faithfulness, love, and power will dissolve the terrifying power of fear.
9. Acts 5:29
Peter and the other apostles replied: "We must obey God rather than human beings!"
In life, as a Christian or a believer of God, we will encounter threats and risks when we walk on to the way of obedience to God's will. Threats coming from the men of authorities will not be strange happening to us to prevent the advancement of God's kingdom through the proclamation of the gospel of the Lord. Satan will block and hinder the light of the word of God by using effective blockades and threats to any obedient servants of God. But if we entrust and surrender everything in the mighty hands of God, we will respond fearlessly against the threat of fear as what the apostles did. Obedience is a sign of love to the Lord (John 14:15). And love must continue to exist and work in our hearts even in times of threats and dangers. Do we love God? Can we respond fearlessly to any threat to show our love to the Lord as what the apostles did?
10.Psalms 91:1
"Whoever dwells in the shelter of the Most High will rest in the shadow of the Almighty."
God is love, and whoever abides in love abides in God, and God abides in him. By this is love perfected with us, so that we may have confidence for the day of judgment, because as he is so also are we in this world. There is no fear in love, but perfect love casts out fear. For fear has to do with punishment, and whoever fears has not been perfected in love.
The threat of fear is inevitable but we can overcome it through our fearless response with faith and courage from God. Victory will not come if we let fear control the battleground. We have to stand and face it bravely with the help and aid from our faithful God who will always be there to fight for us. If we fight for God he will fight for us.
Blessings!
Content created and supplied by: Jobwanjala (via Opera News )
Opera News is a free to use platform and the views and opinions expressed herein are solely those of the author and do not represent, reflect or express the views of Opera News. Any/all written content and images displayed are provided by the blogger/author, appear herein as submitted by the blogger/author and are unedited by Opera News. Opera News does not consent to nor does it condone the posting of any content that violates the rights (including the copyrights) of any third party, nor content that may malign, inter alia, any religion, ethnic group, organization, gender, company, or individual. Opera News furthermore does not condone the use of our platform for the purposes encouraging/endorsing hate speech, violation of human rights and/or utterances of a defamatory nature. If the content contained herein violates any of your rights, including those of copyright, and/or violates any the above mentioned factors, you are requested to immediately notify us using via the following email address operanews-external(at)opera.com and/or report the article using the available reporting functionality built into our Platform See More