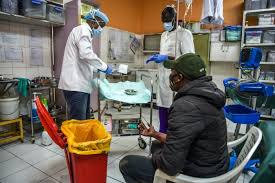 Dear Kenyan Youth,
We are in a time when uncertainty is the order of the day and the fear that has been caused by this pandemic fills our atmosphere. It is nothing like any other that has ever been experienced before.
It there fore calls for reactions and actions like never before. We can not afford to stick to the normal and expect to get away with it. Like its said, desperate times call for desperate measures.
We can not look at the government for everything right now. We should look at ourselves first. What contribution can we make in aiding in the fight against this pandemic...The least we can do is to observe the regulations put in place by the government to ensure safety of ourselves and our loved ones.
This is not the time to be defiant neither is it the time to engage in endless debates. While we acknowledge that some mistakes have been made before by people we entrust with authority, our key objective right now should be finding a way of keeping this country and the world free from this disease.
I therefore call upon all of us to go an extra mile in the fight against COVID-19. Apart from washing our hands regularly with water and soap, sanitizing, putting on masks and observing social distance, let us also help in ensuring that the people in our environments also do the same.
Information is key at this point in time. Let us therefore explain even to the young ones in the simplest terms possible to ensure that they are also safe.
Additionally, let us remember the less fortunate in the society at this trying moment. If you have something to share, kindly do so. The economic shock has had major impact on livelihoods but if we stick together and fight togetherness, we will come out victorious.
Stay safe and may God Protect us all.
Content created and supplied by: EmbracingChange (via Opera News )