Raila Odinga has disclosed that Deputy President William Ruto was briefed on the reconciliation greetings (Handshake) between me and President Uhuru Kenyatta.
Mr Odinga said after consultations with President Kenyatta to bury their political differences, following the divisions witnessed in the 2013 and 2017 general elections, the President informed his deputy of plans to come.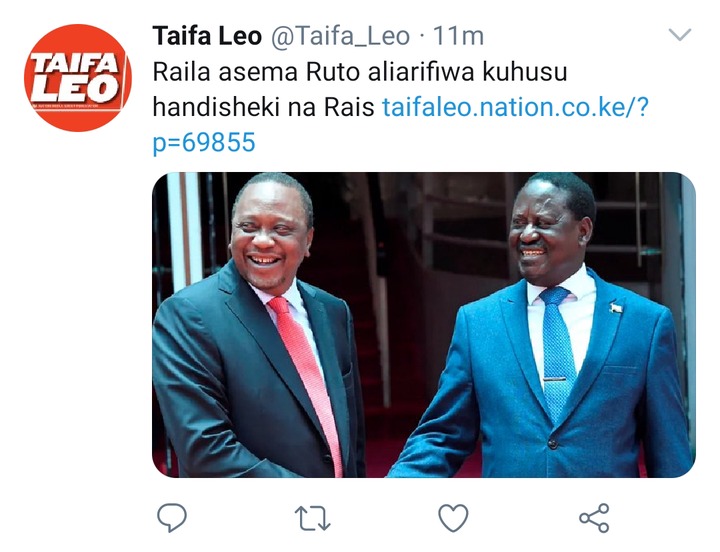 "He called his deputy while I was there, and told him 'if you see me and Raila reporting don't worry, I'll tell you more later'…" he hinted.
The opposition leader also said he had informed his running mate, Mr Kalonzo Musyoka (Wiper) about the prospect of reconciliation.
President Kenyatta and Mr Odinga addressed the nation on March 9, 2018, promising to bury their political differences where they also launched the Reconciliation Plan Report, BBI.
Appearing to criticize Deputy President William Ruto following his claim that he was not involved in the move, Raila said Dr Ruto was also involved in appointing members of the BBI task force designed to gather public opinion, in the whole process of uniting the nation.
In addition, the task force has 14 members. "Of those members, the President was represented by seven experts, and I am also seven. Of the seven Presidents, three were nominated by Ruto, "Mr Odinga explained.
The task force was tasked with gathering mixed views of Kenyans, culminating in a proposed constitutional amendment through the BBI.
"It is not fair to say that the vice president was in the dark, he was inside and he was not forced by anyone. He was asked to comment on the BBI but he did not, his people did. They were advising him and telling him what had happened, "he explained.
Mr Odinga has defended the BBI task force, questioning its independence in the collection of views and the preparation of a Reconciliation Report.
In addition, Dr. Ruto has been quoted publicly criticizing the reality of BBI and Handisheki. His supporters claim that the reconciliation greetings were aimed at extinguishing his dreams of entering the White House in 2022.
Content created and supplied by: J.M. (via Opera News )