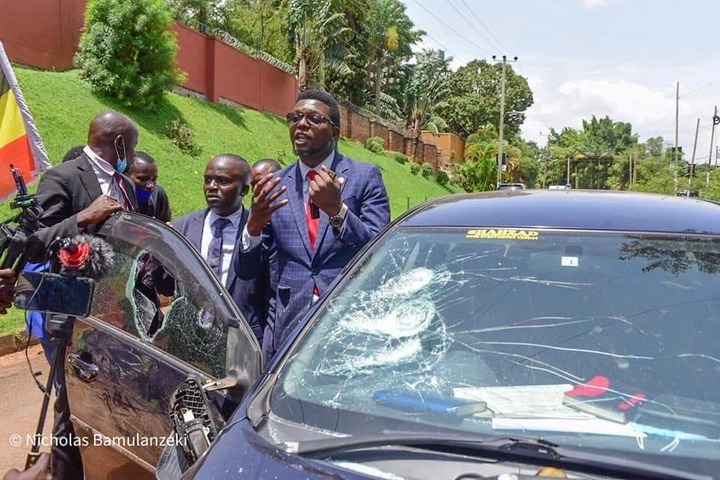 Picture courtesy of Nicholas Bamulanzeki
NTV Uganda journalists were today brutally beaten by Uganda Military police. Journalists John Cliff Wamala, Jeff Twesigye and various other journalists were cornered and beaten with sticks as they scattered and run for their lives. The journalists could be heard screaming as they entered their vehicle. Jeff Twesigye was unlucky as he was left by the vehicle as it left to take the injured journalists to hospital. He was surrounded and beaten until he asked for forgiveness (for doing his work). Several other people including elected leaders were violently attacked.
Ironically, the incident happened right outside the gate of The United Nations Human Rights office in Kampala. The journalists were covering an event where former Uganda Presidential candidate Robert Kyagulanyi Ssentamu (Bobi Wine) supporters had taken a petition against the continuing abductions, torture and murder of its supporters. The military officers also vandalized several vehicles and other gadgets like cameras.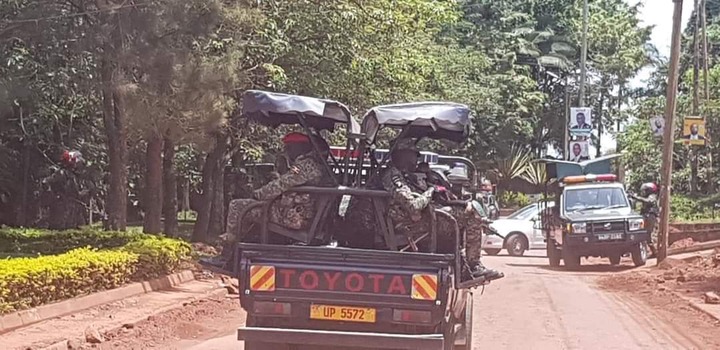 Picture courtesy of Robert Kyagulanyi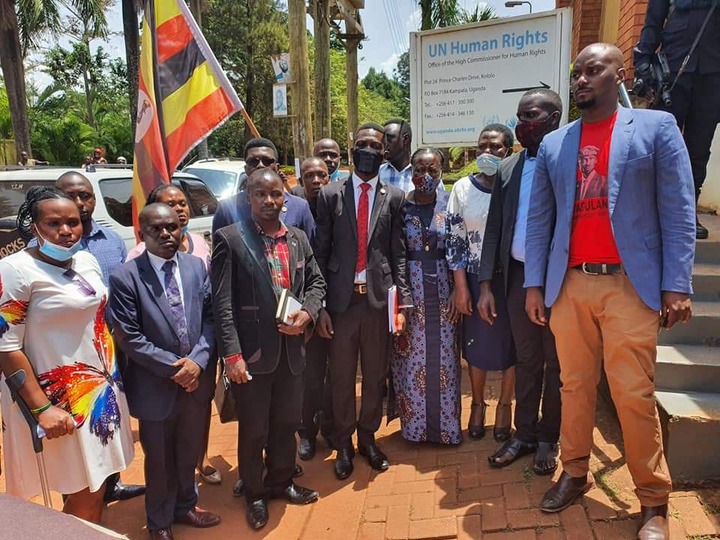 Picture courtesy of Robert Kyagulanyi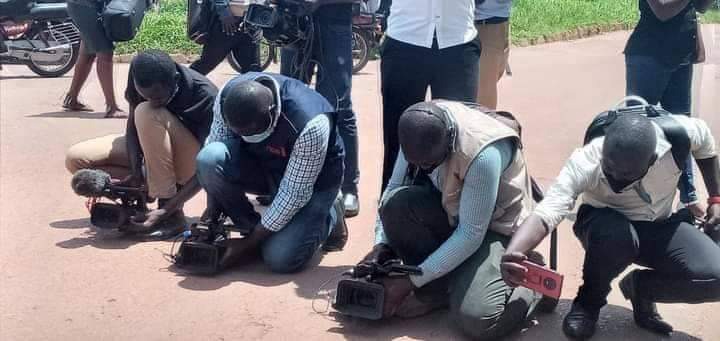 Picture courtesy of Robert Kyagulanyi
Various journalists and leaders around the world have come out to condemn the incident. Under international humanitarian law, journalists and other media personnel are protected against direct attacks unless and for such time as they take a direct part in hostilities. Violations of this law constitute a grave breach of the Geneva Conventions.
This is not the first time Uganda's security forces are attacking innocent civilians unprovoked. Before, during and after this year's presidential elections, there were reported cases where the security forces were persecuting perceived supports of the de facto opposition leader Robert Kyagulanyi who was by then a presidential candidate. Robert himself was detained several times as the Election Day neared. President Yoweri Museveni won the elections which, as Human Rights Watch reported, violence, intimidation and repression. President Museveni has ruled Uganda since 1986 when he took power by overthrowing Tito Okello. He is the third longest-serving state in Africa, after Paul Biya of Cameroon and Teodoro Obiang Nguema Mbasogo of Equatorial Guinea.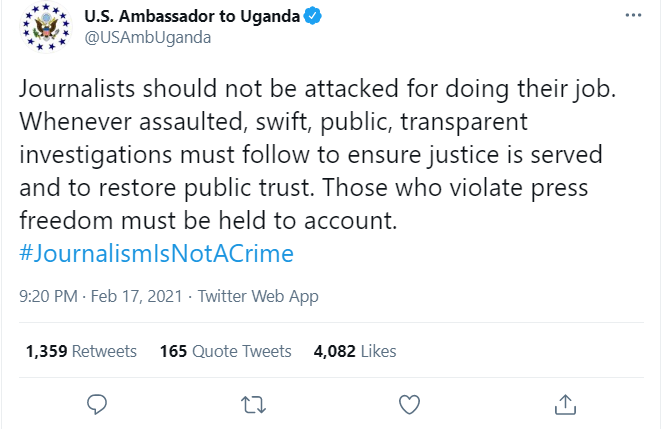 Picture courtesy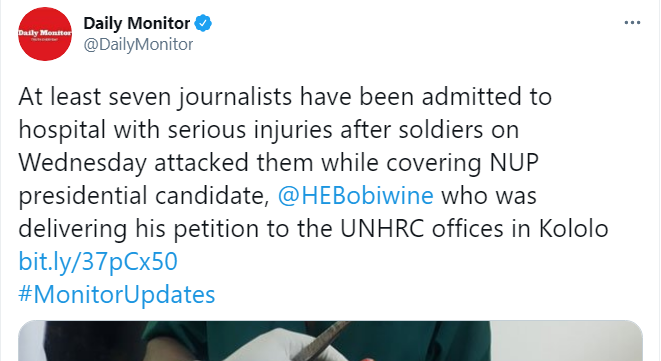 Picture courtesy

Picture courtesy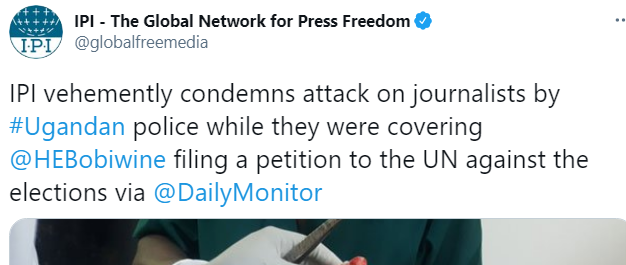 Picture courtesy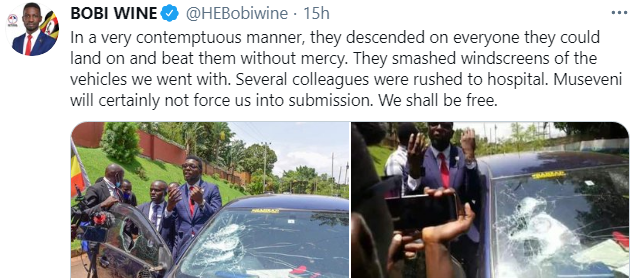 Picture courtesy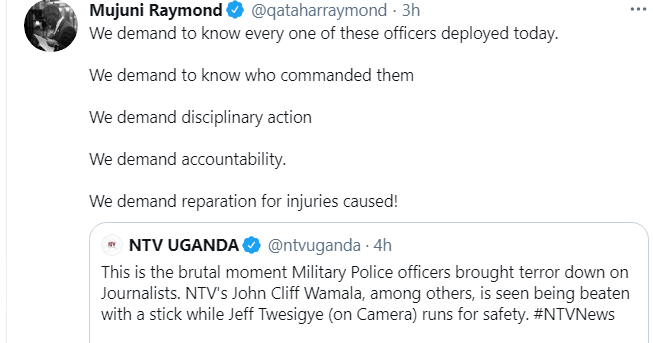 Photo courtesy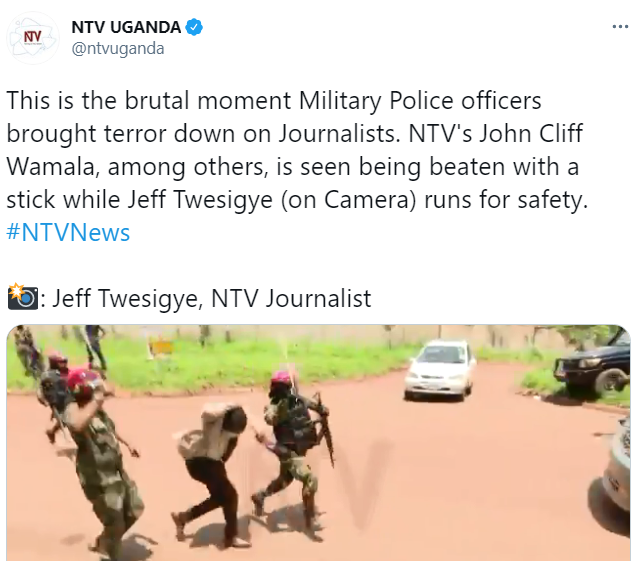 Photo courtesy
Click the link below to see the video of the journalists being beaten
https://twitter.com/ntvuganda/status/1362041309255581708
Content created and supplied by: GlobalPundit (via Opera News )