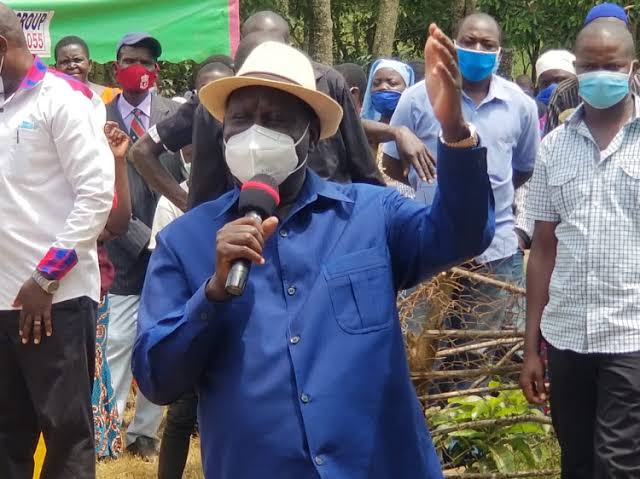 The Orange Democratic Movement party leader Raila Odinga has received a lot of praises from Kenyans with most people pledging to support his Presidential bid and unanimously vote for him in the coming 2022 general elections. The enigma has been trending on local and international television screens and radio stations across the country and East Africa; Uganda, Tanzania, Burundi and Rwanda for his development agendas.
He is also popular among other African Union (AU) nations like Nigeria, South Africa, Ghana, Egypt, Togo, Cameron, the DRC and the rest for his noble and wise quest to deliver the continent from socioeconomic and political challenges. Baba has been holding several meetings with leaders and delegates from other countries to talk about how to come up with progressive projects and methods of ensuring peace, unity and stability in the African countries.
Today he met with one of the South Sudanese Vice Presidents Rebecca Mabior whom he hosted at his Capitol Hill Square offices to talk about strengthening the relationship between Kenya and South Sudan. President Uhuru Kenyatta's designated successor the enigma updated Kenyans about the meeting on his social media pages on twitter and Facebook.
"Hosted Rebecca Nyandeng de Mabior one of the Vice Presidents of South Sudan. I was pleased to listen to her insights on the situation, developments, challenges and opportunities in her country. We wish the people and Nation of South Sudan well," Raila Odinga posted on his official Facebook page.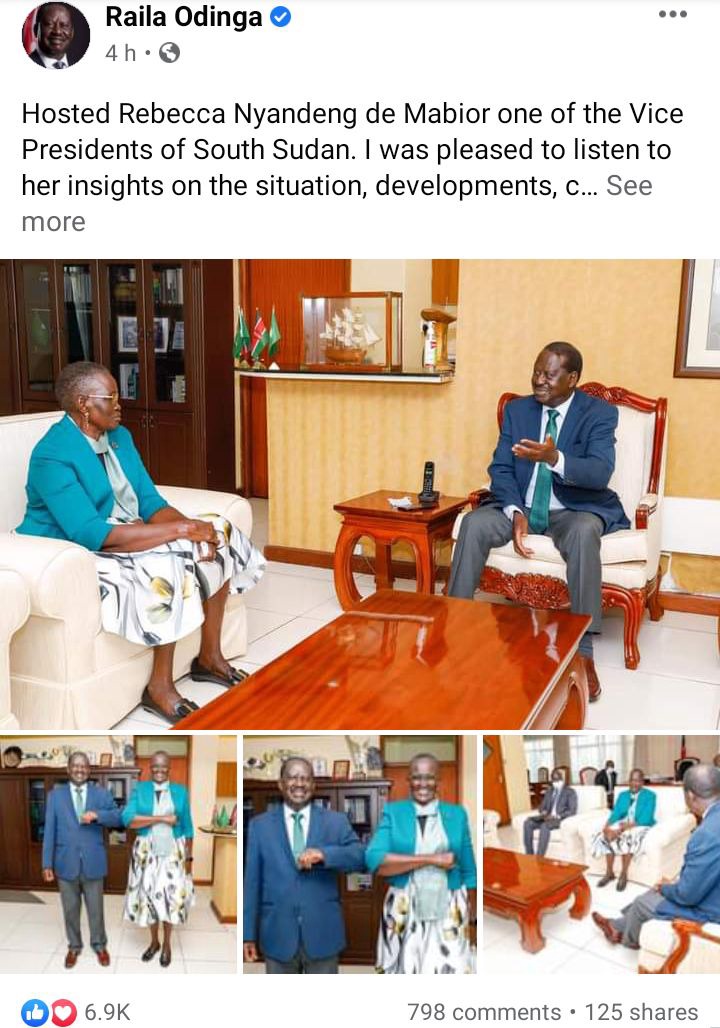 The post sparked mixed reactions from social media users especially Kenyans, Sudanese, South Sudanese and people from other countries. They have hailed His Earthquake-ness Raila Odinga as a man of the people whom have done a lot for African countries. Most Kenyans on social media pledged to support his 2022 presidency in the looming presidential elections. Below are some of the reactions from Kenyans, East Africans and other social media users:
"We hope as South Sudanese when you have close contact with such a great leader we are optimistic that peace will eventually come. We youth of South Sudan have lost hope in our leaders and we are desperate despite the Peace agreement among our leaders. But we believe in you Raila. Once you become President by next year just sit down in your office and remember us. We have suffering beyond description," Deng commented.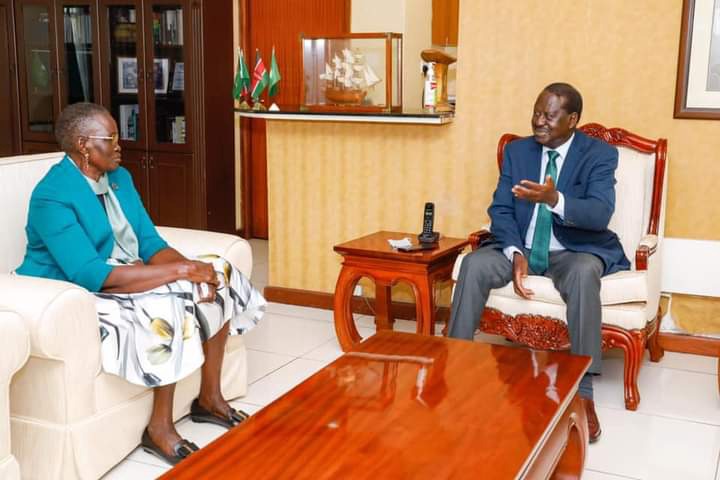 "Baba what you've accomplished in Kenya and Africa is huge. Then small hooligans mindset thinking of you being a president only. I think you've done more than a sitting President," Karis wrote.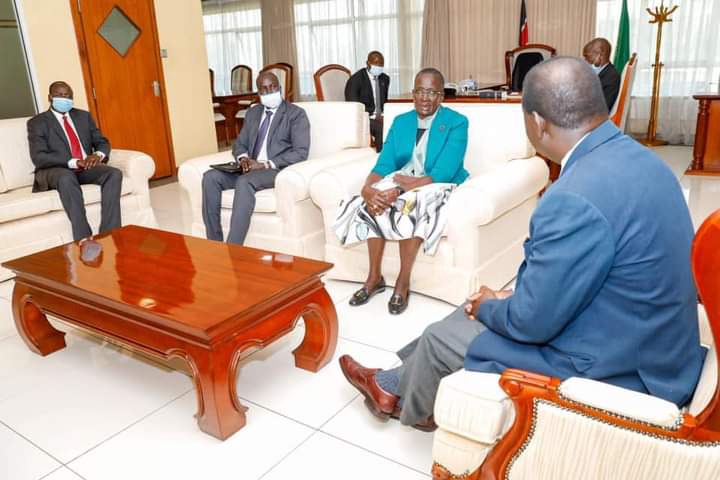 "From South Sudan, yes she is one of our V.P but sir you are professional politician with footprint. I hope you have adviced her to steer us out of mud hole pendulum of this revitalise traditional government which swing between lack of implementation, strife of interests, masquerading as a contest of principles from difference political parties," Leek reacted.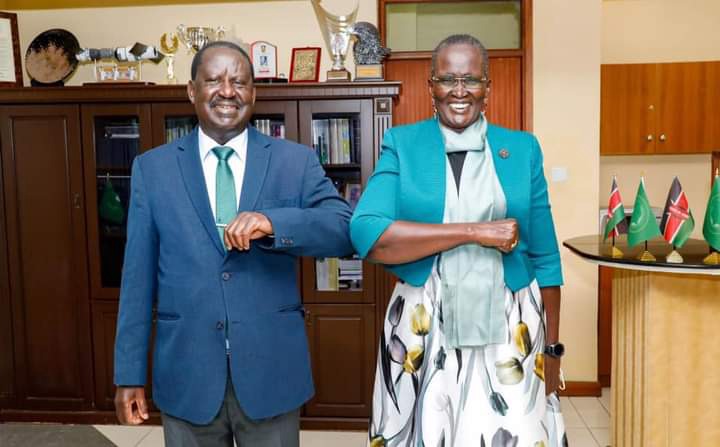 "I like how you're a true African Statesman. This time around I want you to be President and Africa will be proud to be associated with you. Awesome meeting between the ODM Leader and the South Sudan Vice President Rebecca," Kilonzo responded.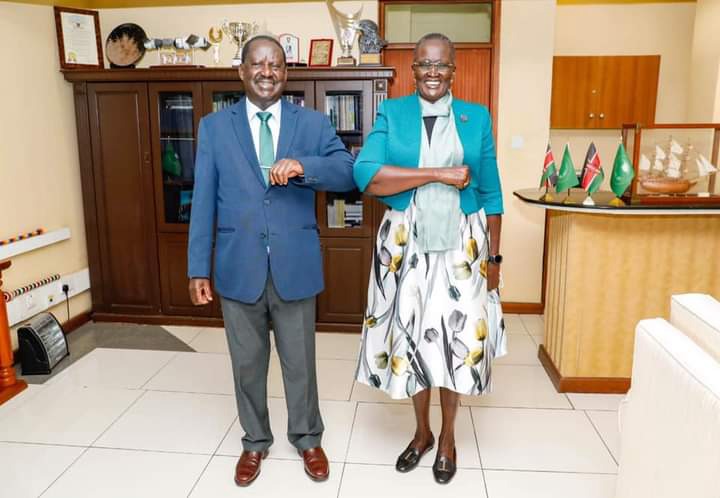 "Wish our neighbors South Sudan well. We hope that gradually all the internal conflicts that are brought about by secretary tribal interests shall be solved amicably to enable all stay in peace. Her husband played a pivotal role to put her country to where it is and she along with other foremost leaders they shall foster peace and development going forward. When all that is achieved then we shall have regional business and economic opportunities. Live long RAO," Momanyi commented.
More Reactions: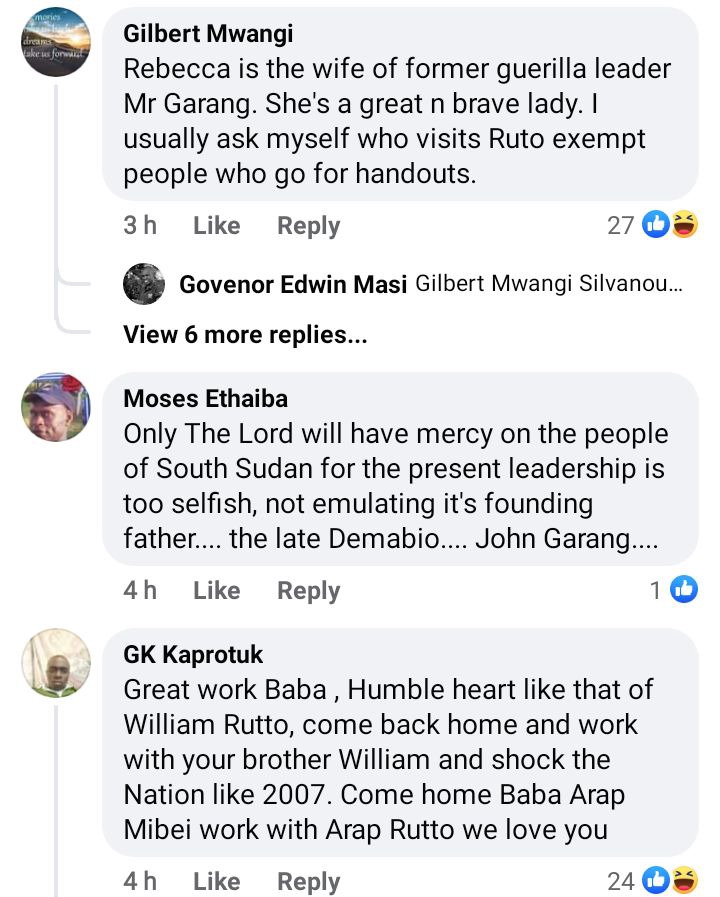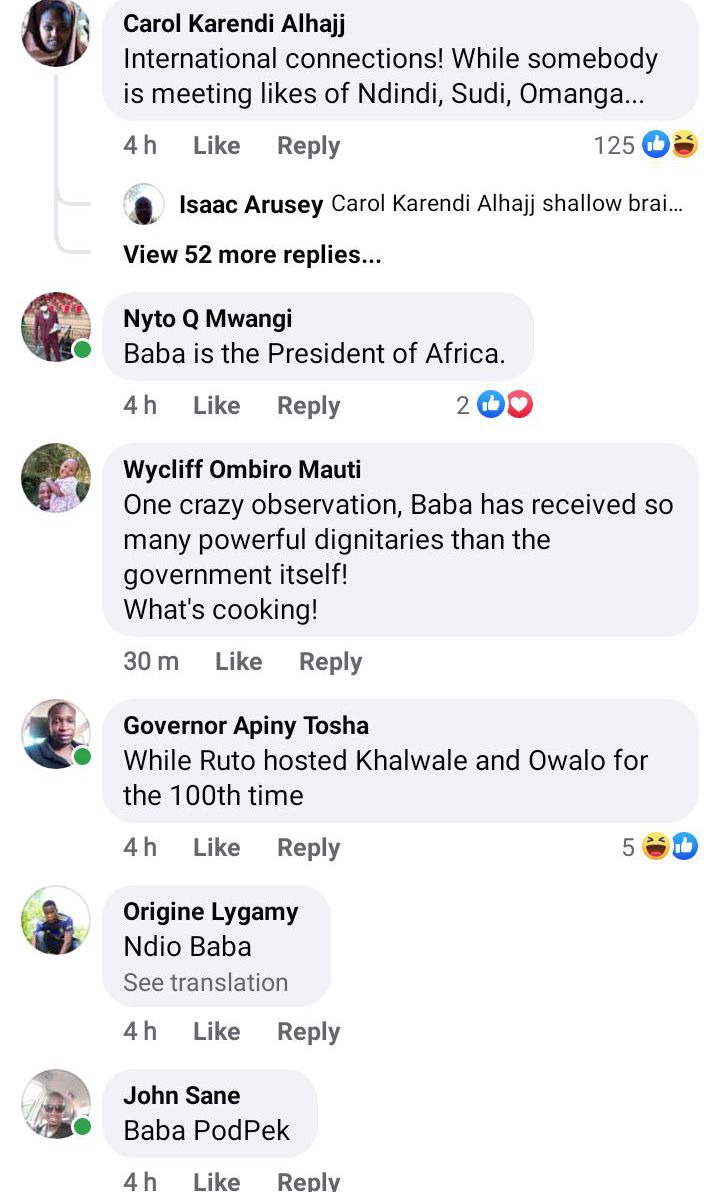 The former Prime Minister is known to be an tactful and influential leader who always appeal to people of all walks of life through his wise and pragmatic plans. He knows how to pull large crowds of people while Deputy President William Ruto knows how to pull Omanga's underwear.
Follow me for more instant updates, trending stories, informative articles and inspirations.
Content created and supplied by: Felicis.Marshall (via Opera News )