Good morning, these are the topics making Headlines in our newspapers today, the 24th day of March 2021.
Daily Nation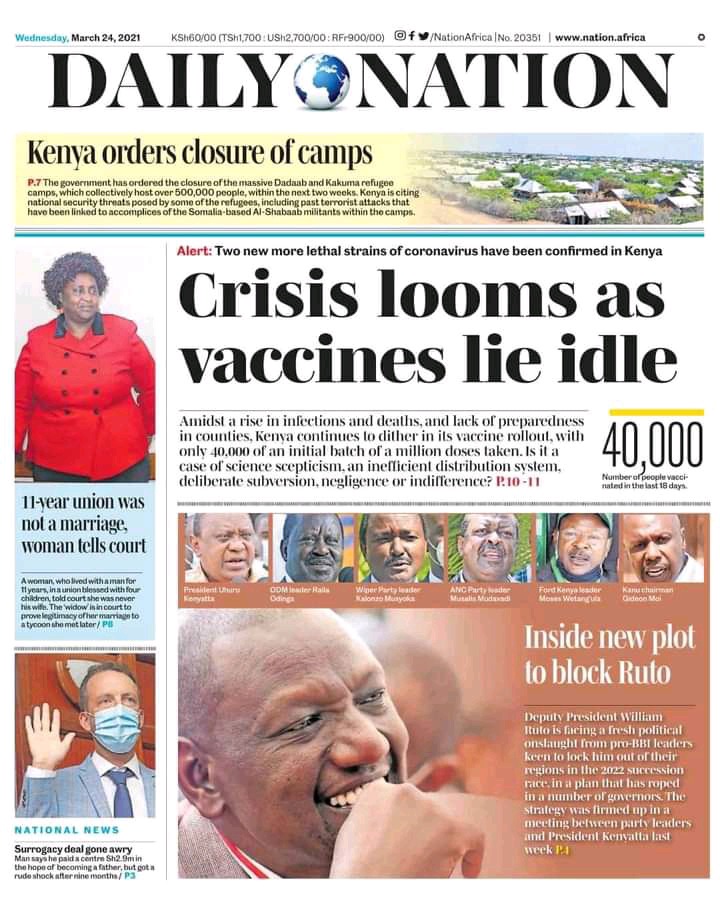 The headline is the revelation that the Covid-19 vaccines are lying idle, this is despite the increased rates of infections and deaths. The issue could be as a result of lack of preparation, inefficient distribution system, deliberate subversion, and negligence.
It has been revealed that president Uhuru held a meeting with the political leaders to discuss on how Ruto can be blocked especially from the regions which are assumed to be these leaders' strongholds, several governors have also been involved.
The Kakuma and Daadab refugee camps to be closed within two weeks, Kenya cites security threats posed by some of these refugees.
The Standard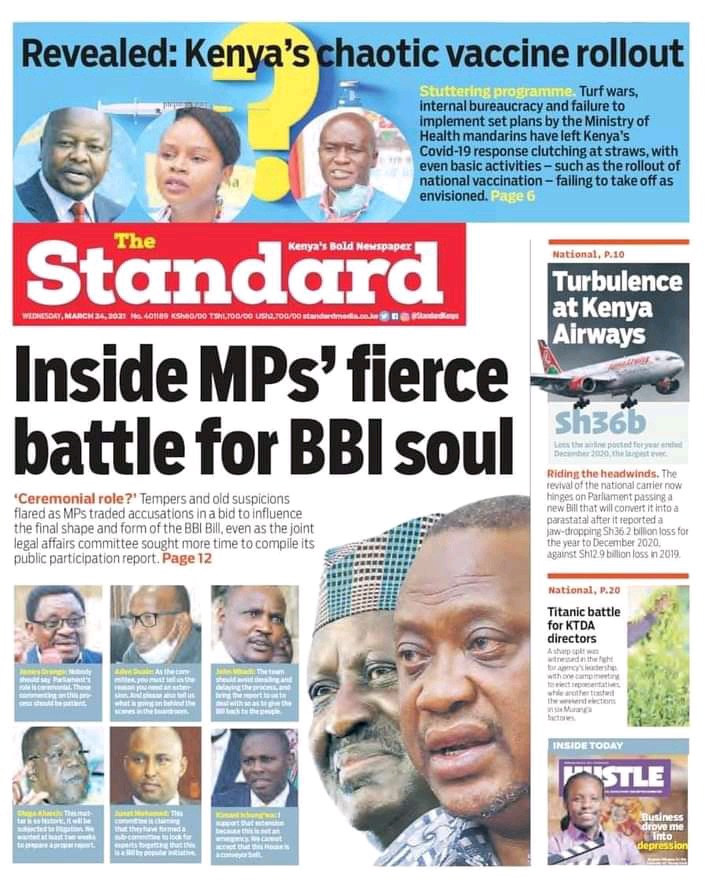 The Standard too has talked of the chaotic rollout of the vaccine, it cites turf wars and internal burecracy as the main contributing factors to this.
Members of parliament now vows to make changes in BBI, both Uhuru and Raila men want some proposals such as the distribution of the new 70 constituencies and the establishment of the office of the Ombudsman be revisited.
The Star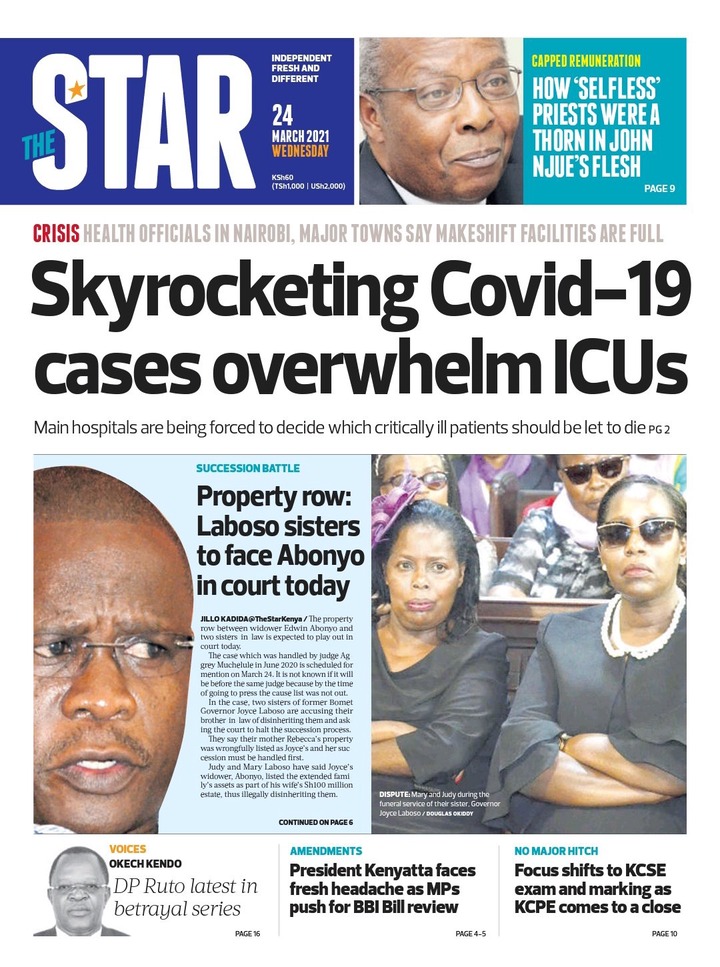 The increased number of those contracting the deadly Covid-19 had led to crisis in our health sector, there are no ICU beds in the hospitals all are full.
The late Bomet Governor Joyce Laboso's sisters set to meet in court with her husband over property row, they want some of the properties listed under Abonyo's name be removed since they belong to their mother.
BBI Headache is also discussed, Uhuru is having headache as members of Parliament vow to make changes in the document.
People Daily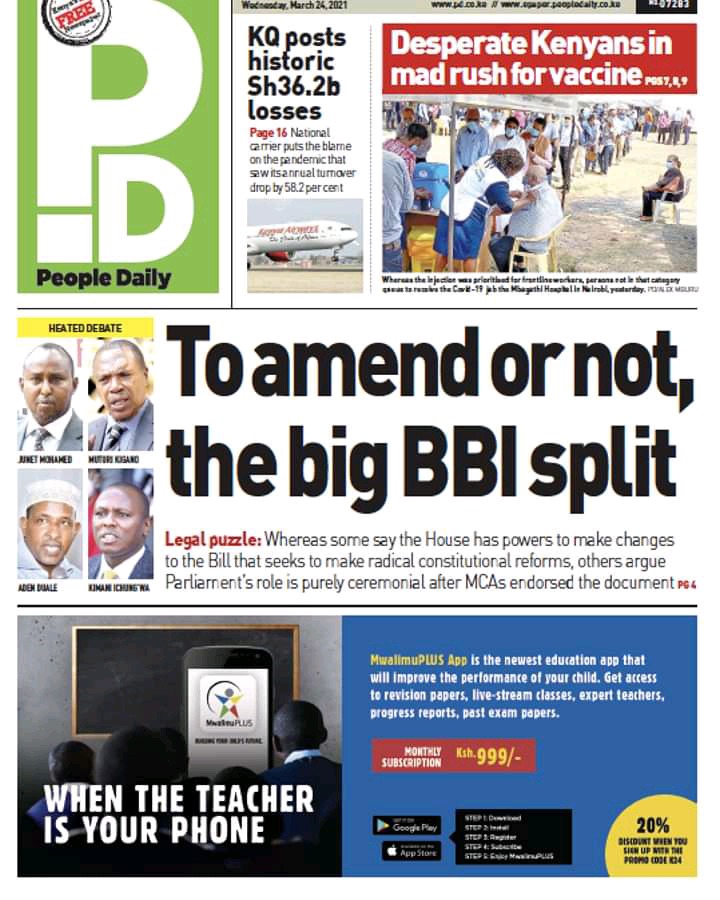 BBI big split, the fresh move to make changes in the bill has split members of parliament, some believe they have powers to amend the document, other feel they only have a ceremonial duty over it.
The huge loss by the Kenya airways has been discussed, the company made 36.2 billion losses, they put the blame on the pandemic especially when our airspace was locked.
Good day as you read your newspaper, kindly do not forget to, Wash your Hands. Keep Social Distance. Sanitize And Put On Your FaceMasks.
Content created and supplied by: NewsIn (via Opera News )