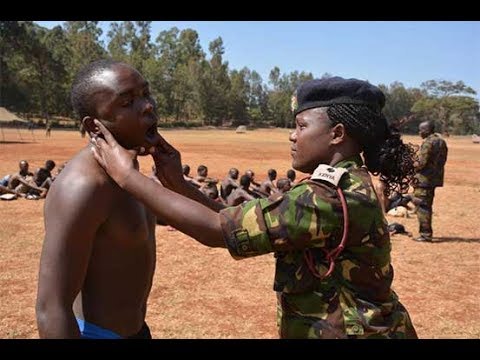 Two senators from different countries have placed the Kenya defence forces' recruiting officers on spot over the recent recruitment exercise in their counties, saying there was widespread demand for bribes by the officers.
KDF in January announced the mass recruitment of new cadet officers into the force beginning Monday, 8th February and participants were required to submit their application letters before the said date. The recruiting officers would then visit recruiting centres on every sub-county in the country.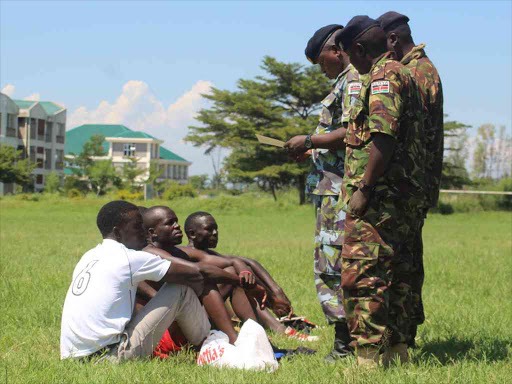 KDF statement read in part, "Specialist Officers and Tradesmen/women (Technicians and Artisans) are required to apply before 8th February 2021 using the specified postal address in the advertisement."
Just days after the recruiting process of new cadet officers kickstarted, reports now have it that some KDF recruiting officers are demanding bribes from applicants in exchange of favor.
According to the Narok and Makueni counties senators— Ledama O'lekina and Mutula KilonzoJr— they have alleged that Kenya's most disciplined force's officers are demanding bribes in form of money from desperate Kenyans who are unemployed before favoring them in the list of those joining the force.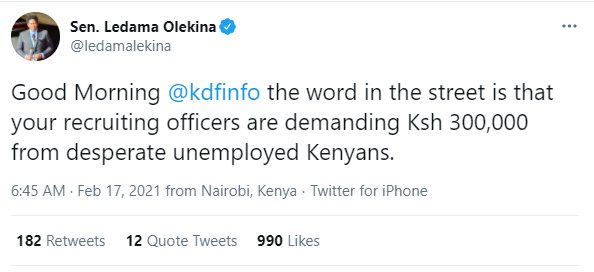 "Good Morning @kdfinfo the word in the street is that your recruiting officers are demanding Ksh 300,000 from desperate unemployed Kenyans," wrote O'lekina in his twitter page on Wednesday.
His allegations against recruiting officers sparked reactions from Makueni senator who also said he had receivedinformation of the poor conduct by recruiting officers in Mbooni, Makueni county. He said, "I heard of the same in Mbooni, Makueni."
Other kenyans who also commented said taking money in exchange of one getting employed in KDF is not new, and has been going on through years. According to Kenyans who reacted, officers are demanding between Ksh300,000 and 600,000 for for recruitment, hence disadvantaging those from poor families.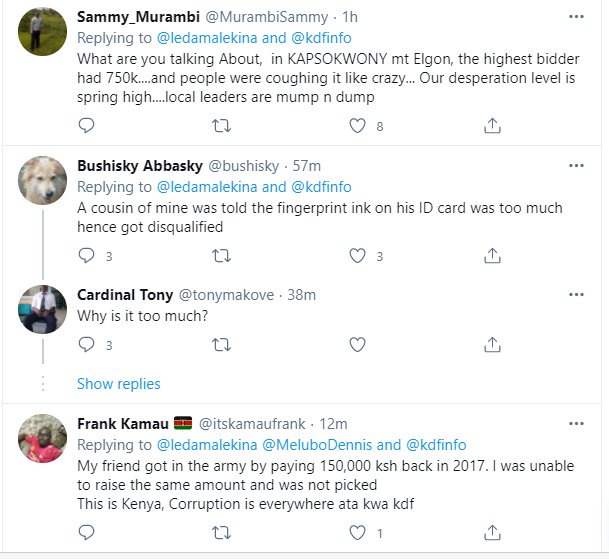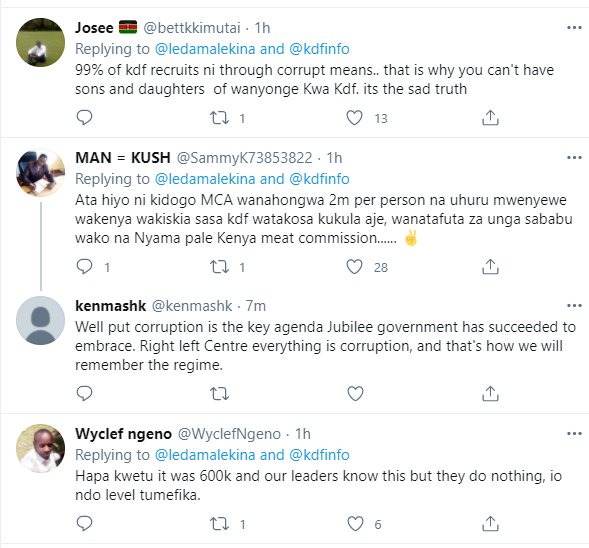 You can click here to view more reactions from kenyans.
Asking for money in exchange of favors is corruption, and is highly discouraged in the country especially by the disciplined force. Those accused and found guilty of asking bribes risk being punished through serving in jail or losing the job.
Content created and supplied by: creport (via Opera News )