Hello and welcome to today's newspaper Review.
1 The standard
The main Headline on the Standard is on the jubilee party's Decision to eject Ruto from a top party position for promoting the ideals of a nother party.
The decision arrived at by the powerful National management committee will however wait for president Uhuru kenyatta to convene a national executive committee (NEC) meeting to ratify it.
The President may chose to attended the meeting and chair it or appoint someone to chair the meeting to either ratify the decision and kick Ruto out of jubilee by or spare him.
In another story, it's a new strategy to sell the BBI following the ban on Political gatherings for 30 days.
Proponents of the Building Bridges Initiative (BBI) have crafted a new strategy to popularise the Bill that will see top leaders and experts dispatched to radio talk shows.
BBI Secretariat co-chair Junet Mohammed said they may seek a review of some of the Covid-19 protocols after President Uhuru Kenyatta capped the number of attendees of social events at 100, essentially blocking town hall meetings.
Fuel billions meant to subsidize fuel products lie iddle as kenyans continue yo suffer from high oil prices is another story on the Standard.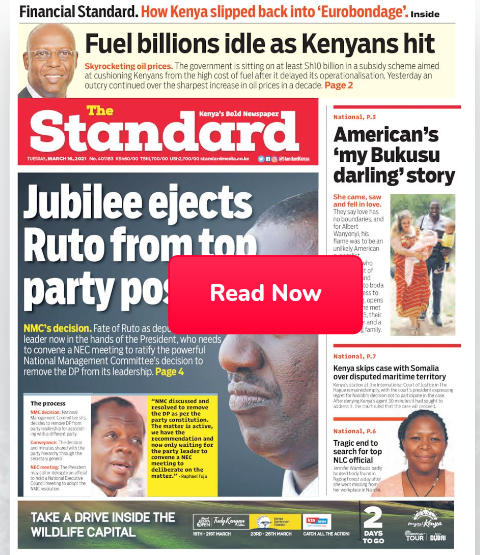 The main headline is on how the DP William Ruto has dodged the president by not fielding a candidate in Juja By-elections.
The seat was left vacant after the death of the then mp mr Waititu. Former jubilee deputy Secretary general and Soi MP Caleb Kositanyi who is now an UDA symphathiser has stated that the party will not be in contest with jubilee.
Many analysts see this as a way of Ruto not wanting to directly compete with the president in his backyard.
In another story, Police in Tanzania are now arresting citizens who are claiming that president Magufuli is sick.
The president's where-abouts are still unknown as rumours on his health continue to spread.
In yet another story on the front page, Kenyans blast MPs for shading croccodile tears over fuel prices.
And on matters Corona, the county government of kwale was closed yesterday due to corona outbreak.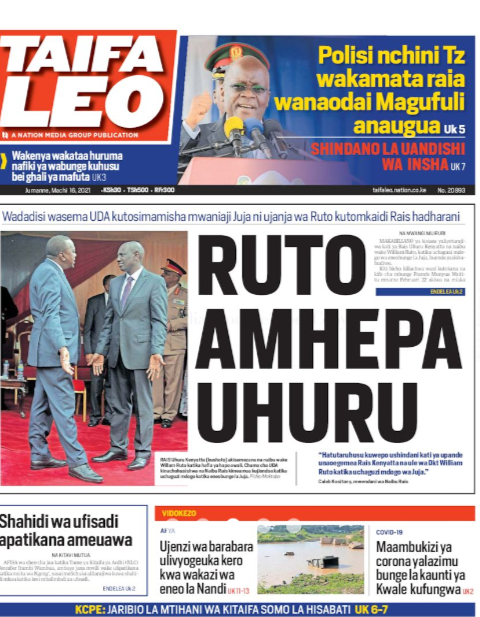 3 Daily Nation
The main headline for the Nation is on the gruesome murder of a top National land Commission Employee who was set to testify against mp Ayub Savula among others on allegations of stealing ksh 120 million.
Jennifer wambua's body was found dumped in Ngong forest.
The nation also has details about police intake which is good news to many unemployed youths.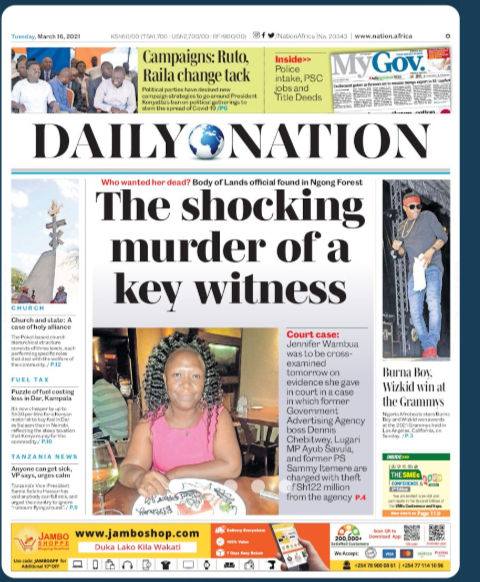 4 busineses Daily
In the business Daily, the employement and labour relations court has declared the survey boss unfit to hold office following her involvement in a fraudulent land transfer saga in Caren Nairobi.
MPs reject Requirements that KQ boss should have a masters degree is another story you will find on the business. For these and more stories grab a copy of your choice.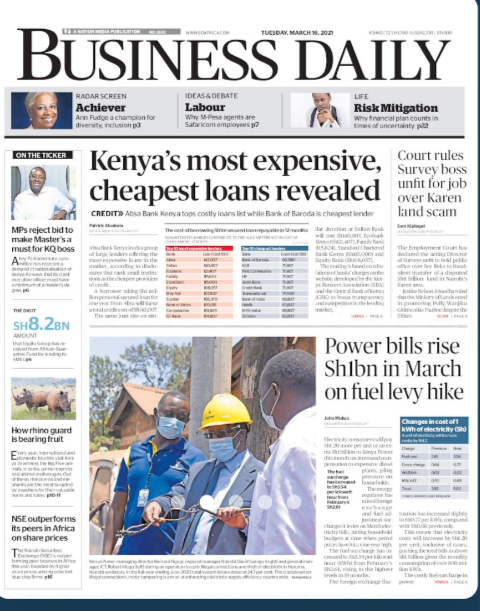 Do you agree with jubilee's Decision to kick Ruto out of the party? Feel free to share your thoughts and comments on this on our comments platform.
Content created and supplied by: @yokeabu (via Opera News )