The much awaited by-elections in the country have finally arrived. A stiff Competition is expected to take please between Jubilee Party candidate, viewed to be the choice of President Uhuru, and those from UDA (Hustler Nation), viewed to be the choice of DP William Ruto. However, a big blow has hit UDA Candidates in Nakuru County, after the county governor delivered some bad news.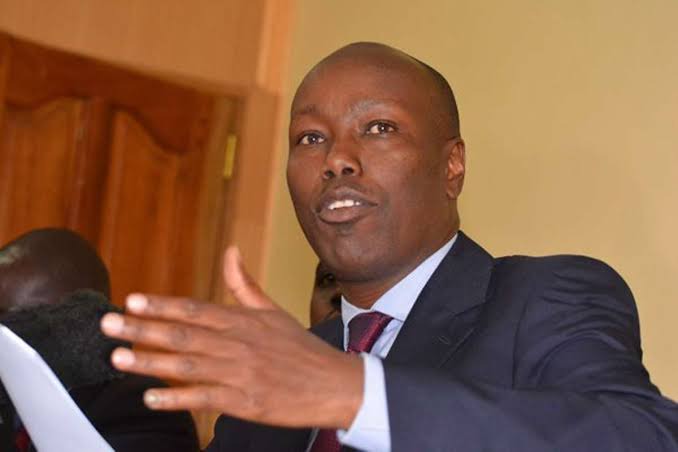 According to Governor Lee Kinyanjui, the County Boss to Nakuru, has come to blast some politicians who are came.from other regions to campaign for their preferred candidates.
In a facebook post that possibly attacked UDA, a hustler nation narrative leading party, where hustler politicians have come from various parts to campaign for their candidate, Governor Kinyanjui said that these politicians came to drive selfish interests.
According to him, the politicians, who are not voters in the region, have now come to.show that the people.of Nakuru county, specifically from these wards, did not have the capacity to choose their leader.
Governor Lee Kinyanjui delivered that the reality is that they would campaign for their candidate and later fly to their homes, leaving the people of Nakuru with the ame problems they had.
For this reason, Kinyanjui insisted that the people.will not just be used and Dumped, asking his people.to vote widely and peacefully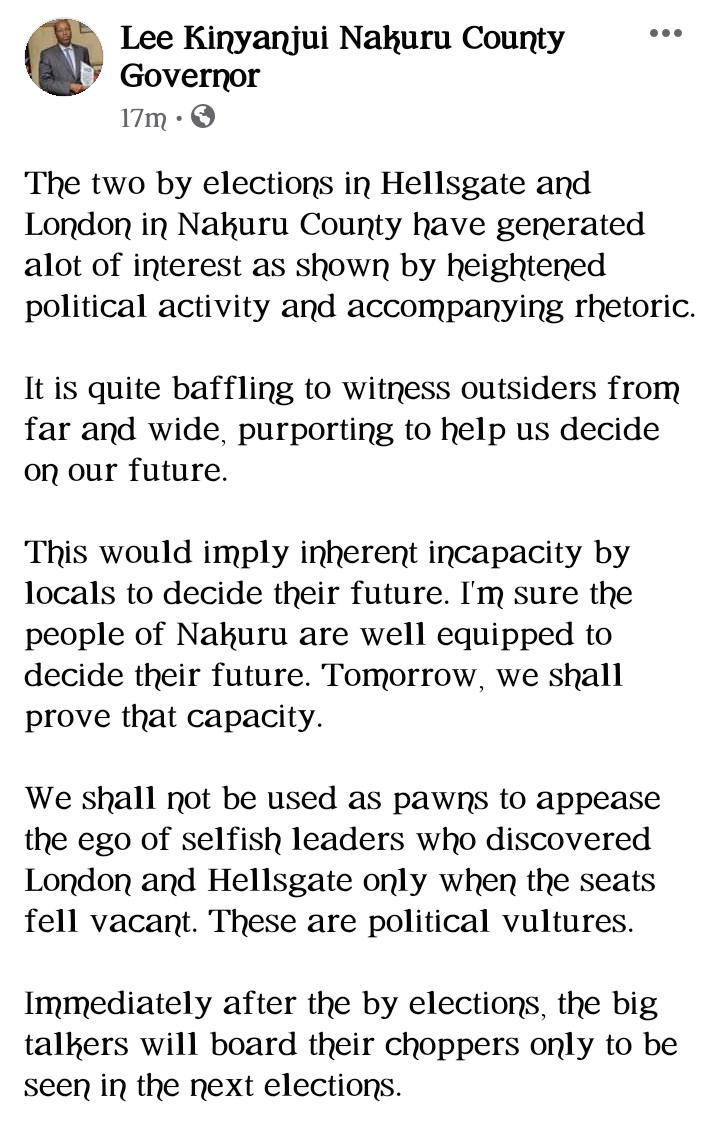 On the same note, it is important to take a reminder that the region was previously dominated by Jubilee Patty Candidate before it became vacant.
With this in mind, it is also important to realise that other parties pulled out of the race in London and Hellsgate wards to pave way for the Jubilee Patty, arguing that it should be left because it belongs to them.
With this in mind, Governor Lee Kinyanjui is also an active member of Jubilee, a party that has issued with UDA. His voice, if his influence still exists in Nakuru, would.therefore mean so much to those he doesn't agree with ahead of tommorow's by-elections. This might be a big blow to thw UDA candidates because they are the only known big competitors.
Meanwhile, we would.like.to hear your views on the same. Share with us in the comments section below.
Content created and supplied by: Wilson_Kimani (via Opera News )