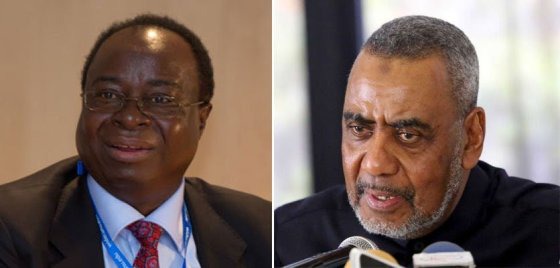 The death of President John Pombe Magufuli brings the number to 11 of prominent Tanzanian who have departed less than a month.
Magufuli died late evening on Wednesday,March while receiving treatment.The critical details about his death but his Vice Hassan Suluhu said that he was suffering from atrial fibrillation.
Magufuli served as Tanzanian president from 2015 upto 2021 when he died while in office, Magufuli's death came just a few months after Tanzania has lost Zanzibar First Vice President Seif Sharif Hamad and Benno Ndulu former Bank Governor of Tanzania.
Ndulu died at dawn on Monday February 22 while receiving treatment at Robert Kairuki Hospital in Dar es Salaam.Two days after the death of Ndulu,Dr Servacius Likwelile on Saturday February 20,Likwelile was a lecturer at the University of Dar es Salaam at the time of his death.
Ambassador John Kijazi died few weeks earlier before the death of the two economists.Kijazi died departed on Wednesday February 17 in Dodoma at Benjamin Mkapa Hospital.
Seif Sharif Hamad Zanzibar's Vice President died on February 17 where the nation mourned,he died at Muhimbili National Hospital where he had been admitted.
Dr Muhammed Seif Khatib died two days after death of Hamad.He died on Monday, February 15 in Ugunja Zanzibar,he serve as Minister of Home Affairs during President Benjamin Mkapa's rule.
After the death of Khatib it was followed by former Minister of Works,Mr Atashasta Nditiye,he died on February 12 at Benjamin Mkapa Hospital in Dodoma.
Similarly,the same day Mr Bakari Mwampachu also died who help position of Minister of Justice and Constutional Affairs.
Professor Gaudece Mpangala died after short illness.He was an analyst on political issues.
Dr Peter Mamiro and Prof Delphina Mamiro died on February 9 and February 6 respectively they were husband and wife.
You can like, share and leave a comment
Content created and supplied by: TalkingPointsOnline.com (via Opera News )