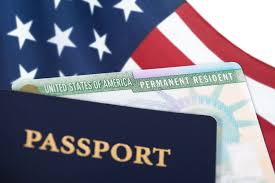 Many people are especially eager to apply for the US Green card but only a few understand the benefits that are entailed after acquiring either of the two. Let us analyze the two in order to be better informed.
Green Card
A green card, better known as permanent residency allows one to live and work in the United States of America permanently. However, one is allowed to retain his/her home country's citizenship and passport. In order for one to become a US citizen, an individual has to have had a green card for a period of at least three to five years. In addition, one has to renew one's green card after every 10 years which costs around 540 USD. A Green cardholder is allowed to be out of the country but has to spend at least six months in a year in the US in order to maintain their status. Green card holders cannot sponsor their parents but are allowed to sponsor their spouses, unmarried children but as preference relative (only a limited number due to the high number of applicants for consideration). This means that they will have to wait longer for the approval of those they have sponsored compared to those who have acquired citizenship.
Citizenship
Applying for a US Citizenships saves one the 10-year green card renewal. Secondly, Us citizenship unlike the green card prevents one from being listed for deportation for violating certain crimes under the immigration law not unless one forged or gave false details in order to acquire the US Green card and citizenship. Such a situation can result in both documents being revoked. Thirdly, a US passport enables one access to travel to many countries throughout the world without having to apply for a visa.
Moreover, one will also have a right to vote in the US after being granted citizenship and even run for a political seat. However, the only seat one cannot vie for as a naturalized citizen is the presidency. The aforementioned post is reserved only for US citizens by birth as outlined in their constitution.
Another advantage of acquiring US citizenship is the fact that one can sponsor a family member, spouse, unmarried children under the age of 21 as well as immediate family. The waiting period is also shorter compared to Green Card holders.
Finally, Citizenship allows access to certain federal jobs and benefits which are not available to Green cardholders.
It is important for immigrants or green card holders or those seeking to be naturalized citizens to consider what best works for them.
Content created and supplied by: MidasMuse (via Opera News )