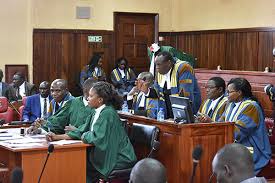 Early today Honourable members of the county assembly have gathered to demand from the exacutive to submit the first Supplementary budget immediately.
Those MCA claims that this Supplementary budget was expected from the first quarter of the financial year 2020/2021 to talk over the development funds, which they had not receive to date. This had a negative attitude on the development project being undertaking by the County Government occasioning delay in the complition of the undergoing project in their Wards.
They claimed that the County Government have undermine the legislative authority of the County Assembly resolutions and legislative passed by house and separation of powers as stipulated in Article 185 of the Constitution of Kenya 2010.
In their summary they demanded immediate submission of the first Supplementary budget, payment of the casual workers and release of bursaries within the next 48 hours from the date of issuance of this statement, failure to do so County Assembly will institute impeachment and removal for both CECM Finance and Economic planning and the Governor Bungoma County for incompetence and abuse of office.
Content created and supplied by: MarkSimiyu1 (via Opera News )