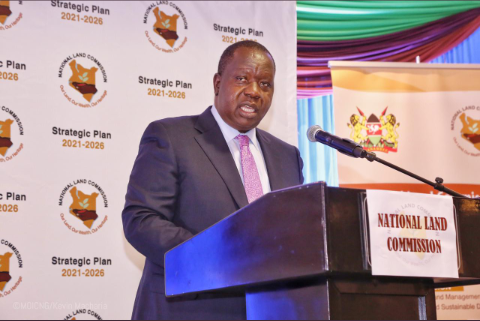 The Cabinet Secretary of Interior security and co-ordination Dr Fred Matiang'i, has finally spoken about the chaos witnessed in the recently concluded by-elections in Kabuchai, Matungu, Kiamokama and London Ward.
Speaking during the launch of the National Land Commission (NLC) strategic plan yesterday in Nairobi, Matiang'i reacted to chaos witnessed in the respective areas by saying, a country cannot go in that direction. He wondered how can just by-elections cause such political intolerance among some politicians, whom he said do not even deserve to be called leaders due to their awkward behaviors.
In the case of Kabuchai constituency by-election, where some members of parliament from 'Tangatanga' were caught with fire arms, the CS has ordered immediate suspension of their licences. He said they are not supposed to own arms, again since they have proved to be dangerous and such people are not entitled to own a gun accoding to law.
In the case of Matungu constituency by-election where the Former Cabinet Secretary of Sports, Culture and National Heritage Rashid Echesa who is also a member of 'Tangatanga' was spotted slapping the Independent Electrol and Boundaries Commission (IEBC) officer in one of the polling stations, Dr. Matiang'i said that the politician must face the law.
@FredMatiangi "We are beyond talking, we are going to act. We cannot afford the chaos witnessed yesterday during by-elections heading to 2022."
Either, the CS added that they are waiting to see such a behavior again in upcoming Machakos Senatorial by-elections, to deal with them according to the law. Matiang'i said that they will sue them where probably be declared not eligible to run for any elective position in the country.
"We know they might be planning to come and slap IEBC officers again in Machakos. I want to tell them we are waiting for them. This time round we are going to take them to court and sue them." He said.
Content created and supplied by: 254officialnews.com (via Opera News )