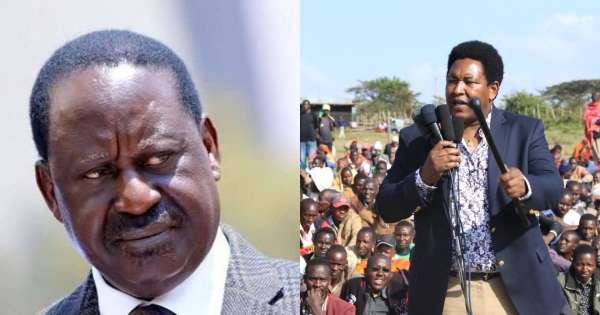 Narok Senator Ledama Ole Kina has come out to answer his critics on why he did not attend a political meeting at his Narok county convened by party's leader Raila Odinga today.
Ledama, who has been championing against the BBI over what he terms as its failure to advocate for the pastoralists' interests, has been lowly receptive to his boss Raila Odinga, who has been trans versing the country popularizing the initiative.
And on Sunday, Ledama was conspicuously missing from his Narok county as Raila, together with a section of ODM leaders from the county toured the Maa county to popularize the initiative.
His absence however, didn't go unnoticed as ODM blogger and Raila Odinga's close ally Dikembe took him into task over his his 'indiscipline'
Taking to his twitter page, Dikembe alias Chepkeres, queried Ledama why her had chosen to abandoned the party, yet he still seats in a position in senate courtesy of the party.
Dikembe lashed out at Ledama, reminding him that the wheelbarrow politics is unsuitable for the Maa community, saying his absence from Raila's meeting was unfortunate.
"@ledamalekina just as you accepted to sit on HBC on behalf of ODM, why not man up and back the party...the wheelbarrow is unsuitable for the Maa, don't you think? Baba was in Narok. Remember sisi hatujui Kazi ni Kazi, sisi tunaelewa tu....Baba ni Baba.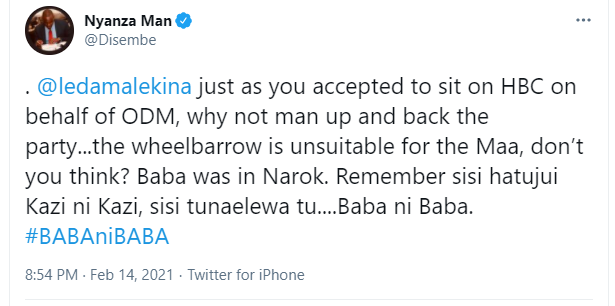 But replying to Dikembe's post, the bold Ledama reminded Raila's team that he was off for a day and was busy with his family since it was on a valentines day.
Ledama, who seems to be charting his political moves ahead of 2022, reminded Dikembe and his boss Raila that there is time for everything and their choice to visit Narok on a Valentines day was not well informed.
"What are you saying ? Or asking ? Are you asking me where I was today ??? If so ...today was a day with my Valentine's ... there is time for everything my brother," replied Ledama.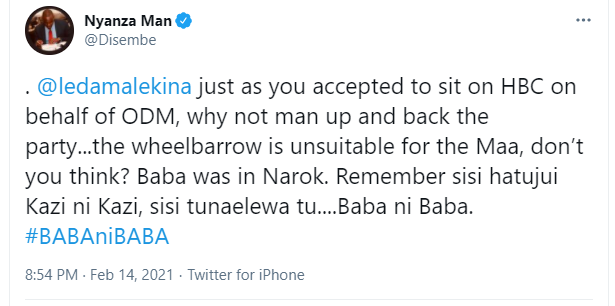 Ledama is rumoured to be warming up for William Ruto's Tanga-tanga camp after allegedly falling out with his boss Raila Odinga during the revenue sharing stalemate at the Senate last year.
Content created and supplied by: FifthEstate (via Opera News )