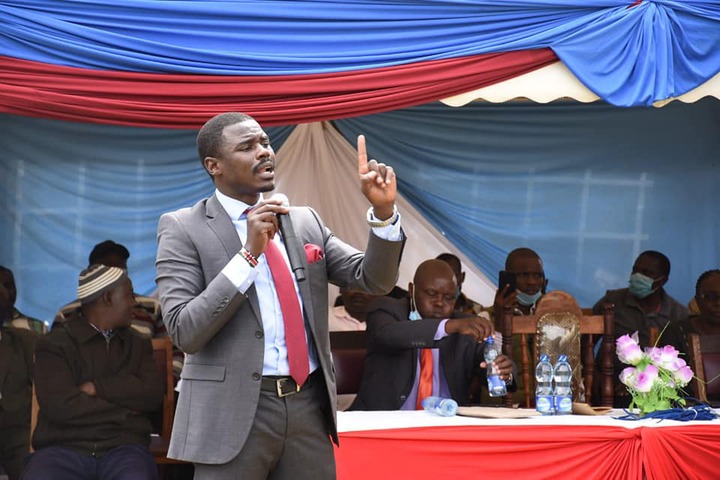 Speaking at Our Lady of Assumption St. John's Catholic Church in Amungenti, Igembe South Legislator Hon John Paul Mwirigi has given Kanuni ward MCA Mugambi Chairman a week to prove his corruption allegations against him to the EACC offices.`
In what he termed as an attempt by the MCA to smear him mad, the MP said that despite Mugambi announcing through the media that he would be tabling a corruption report against the legislator to Isiolo EACC offices on Tuesday of this week, he was yet to receive a letter summoning him to the anti-corruption offices.
 "Kanuni ward MCA said that he would be reporting me to the Isiolo EACC offices accusing me of inflating costs of projects funded by Igembe South NG-CDF offices," he said. "I've been expecting a summon by the said office but I'm yet to receive one," he added noting that if the MCA would not prove these allegations, he would sue him on a defamation case.
Earlier this week, Mugambi accused the legislator inflating the cost of projects as well as giving tenders to only two of his relatives. Notably, the MCA questioned the cost of constructing a storey building housing six classrooms at Amungenti Primary school claiming that the projects should have costed way lower Ksh. 10 million.
Replying to the MCA, Hon John Paul noted that in most constituencies, the cost of constructing such a building ranges from 13 million to 15 million. He warned the residents against being blinded by leaders who had little to show as their development records and reiterated that he would not be distracted from fulfilling his promise of uplifting the status of schools within Igembe South constituency by anybody.
The legislator also cautioned the residents against trivializing measures the government was putting to curb the spread of covid-19 virus noting that the third wave of the virus is worse than its predecessors.
"Lastly, I urge you to protect yourself against this virus since it has claimed the lives of many, including that of my friend Paul Koinange," he said. "The only way to stop the spread is by wearing a mask and adhering to the government directives," added the MP
Hon John Paul was speaking during the burial of Francis Miriti, a local contractor who won the tender of constructing the storey building at Amungenti Primary School. 
Content created and supplied by: Maryu_Nuff (via Opera News )