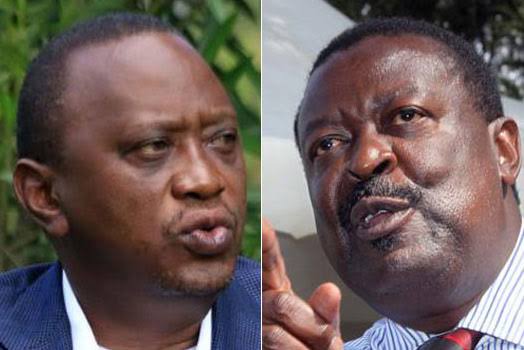 President Uhuru Muigai Kenyatta is in his final months in office after serving his two terms as the president of the Republic of Kenya. He is very keen on who he will hand over power to ensure that his project legacy is continued. But its either he gets his own way or Kenyans may decide other wise on who they want as the next president. In the picture of 2022 presidency we have Musalia Mudavadi, Kalonzo Musyoka, Raila Odinga, Gedion Moi and William Ruto.
It is very clear that the president will not endorse his deputy as the next president of the Republic of Kenya. According to the current political happenings, we can tell that the president may endorse one person from the One Kenya Alliance or Raila Amolo Odinga. From all these guys, the president could easily make Musalia Mudavadi as the next president of Kenya but there are factors that are making it hard for the president not to endorse Musalia Mudavadi.
In my considered opinion, Musalia Mudavadi is not doing his countrywide campaigns the way William Ruto does. I can not remember the last time I saw Musalia Mudavadi at the coast. The fact of the matter is that leadership is grabbed politically speaking. You need to be politicaly aggressive to get leadership but Mudavadi is not showing those signs. Therefore the president is finding it hard to just give the power to him.
Secondly is that Musalia Mudavadi is engaging in unnecessary wars. When ANC won the Matungu by election, Odm complained and Musalia wrote an arrogant letter dismissing the claims by Odm. Assuming the president is negotiating with Raila Odinga so as they both retire and endorse one of there former Nasa principals. Raila will easily ignore Musalia and choose Kalonzo. This also might make the president not to make Musalia Mudavadi as the next president.
I don't know what you think but that's my take. Leave a comment on whether you think Uhuru may endorse the One Kenya Alliance over Raila Odinga. Remember to click the follow button and share the article.
Content created and supplied by: OurWorldPolitics (via Opera News )