If there is something, that has come out clearly in the latest political events within the country is the ideological differences between His Excellency the deputy president and the allied forces of President Uhuru Kenyatta and former Prime Minister Raila Odinga.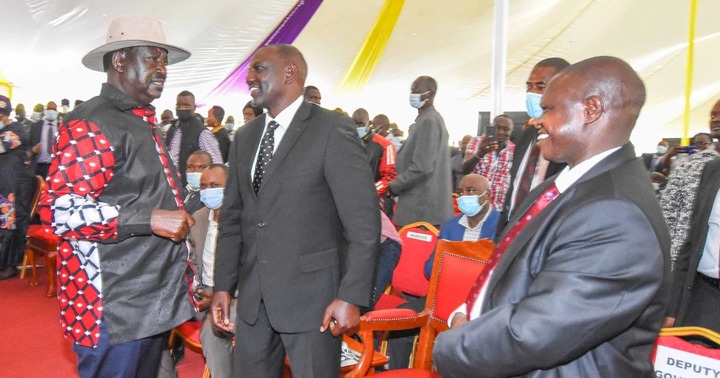 While the handshake brothers advocate for an economy where the government creates a good business environment for big businesses to thrive, the hustler movement leader roots for creation of empowerment programs that will see the rise of the smallest of business activities.
Recently, the major developments carried out since the handshake revolve around properties owned by big corporations. On the other hand, the deputy president Dr. Willam Ruto is daily dishing out wheelbarrows, barber shop kit, car wash pumps among other equipment that can start a small enterprise in Kenya.
Drumming up support for a bottom-up economy in Kenya, the deputy president has pleaded with those branding the hustler campaign as radicalization of the have-nots to open their eyes and see the bigger picture.
According to Ruto, the country's economy will not grow if the government keeps on ignoring the businesses of the commoners.
Speaking at the funeral of the late father to Kisii DG yesterday, Ruto noted that it was about time the government focused on the needs of the hustlers in business.
"When I supported Raila and Uhuru for over 20 years now, no one said I was a bad person," Ruto said. "Why should I be branded bad now that I want to help the hustlers," he went ahead to question.
Ruto also hinted that he would borrow a leaf from Kibaki and come up with policies that would steer rapid growth of small and medium enterprises.
 "In the spirit of Kibaki, once I form my government in 2022, I will add an extra 100 million to the CDF which will be used to now empower the bodabodas, mama mboga and other small business owners to expand their business thus grow the economy quicker," Ruto said to the elated crowd.
The enthusiasm of the people towards Ruto during yesterday's burial in Kisii is a sign that the hustler narrative has not only won hearts of people in Mt. Kenya and Rift Valley but those in the whole country.
Content created and supplied by: Maryu_Nuff (via Opera News )