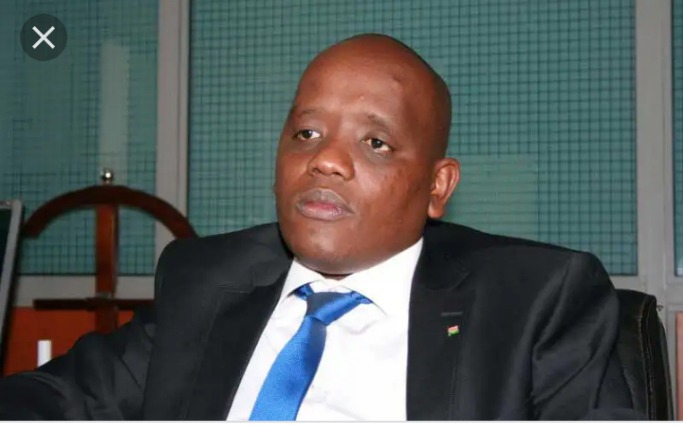 Blogger Dennis Itumbi on twitter replied to Tuesday 16th February Daily Nation Headline,"Hustler Thunderbolt" by saying that those before them told them that it is both a moral and Righteous duty to disobey unjust laws.
According to this headline on daily Nation, deputy president William Ruto's campaign slogan targeted by a new bill that prescribes five years in jail or a sh.5 million fine for any leader who propagates class divisions in the country,once convicted,such leaders will also be barred from holding public office.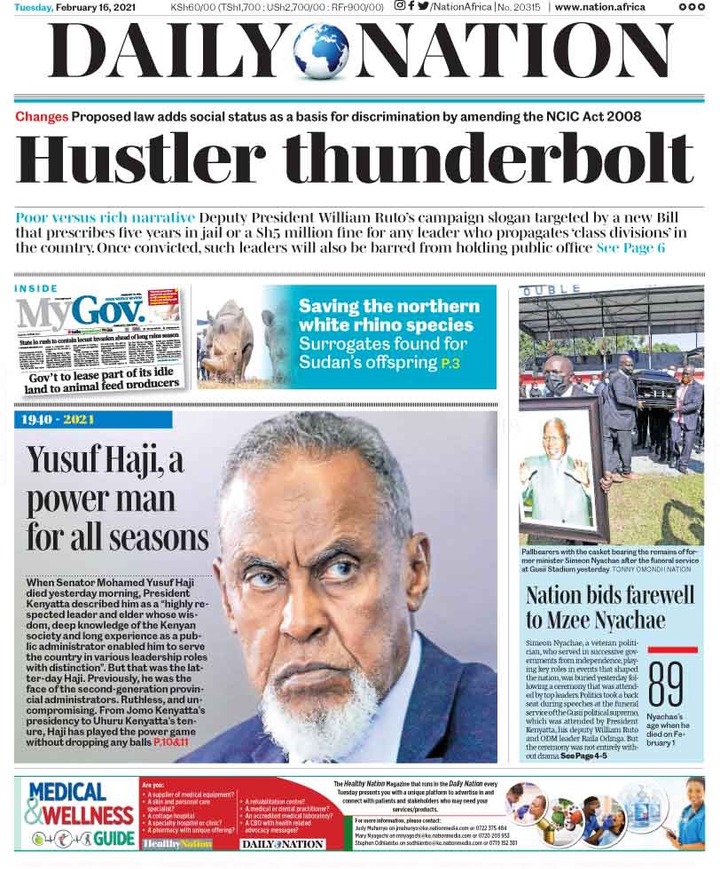 What he Posted on twitter,
"Those before us told us, " It is both a Moral and Righteous duty to DISOBEY Unjust laws..." #HustlerNation https://t.co/UMWpgxbogv"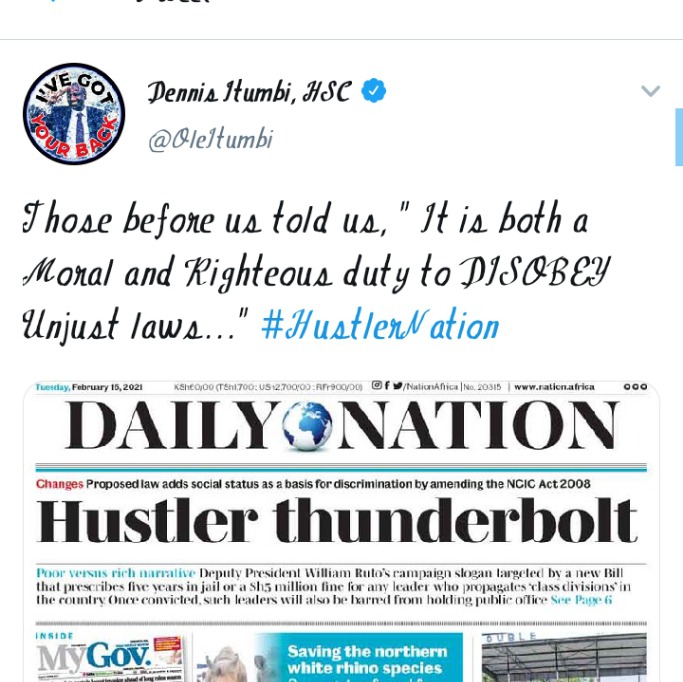 Reactions on twitter:
Duncan:Why not change the law itself. Make it a just one... Laws, all laws have to be adhered to. Just or otherwise. Change the law. To avoid the ambiquity of which laws are just or unjust...
Jeff:It will not pass the test of the day as   Freedom of expression is enshrined in Article 33 of Kenya's 2010 constitution. The poor versus rich narrative is a just discussion on growing wealth inequality.
Mwiti:And who creates those unjust laws if not your representatives?whom we trust to rule us? Good thing there is time frame for correction ( 5 yrs).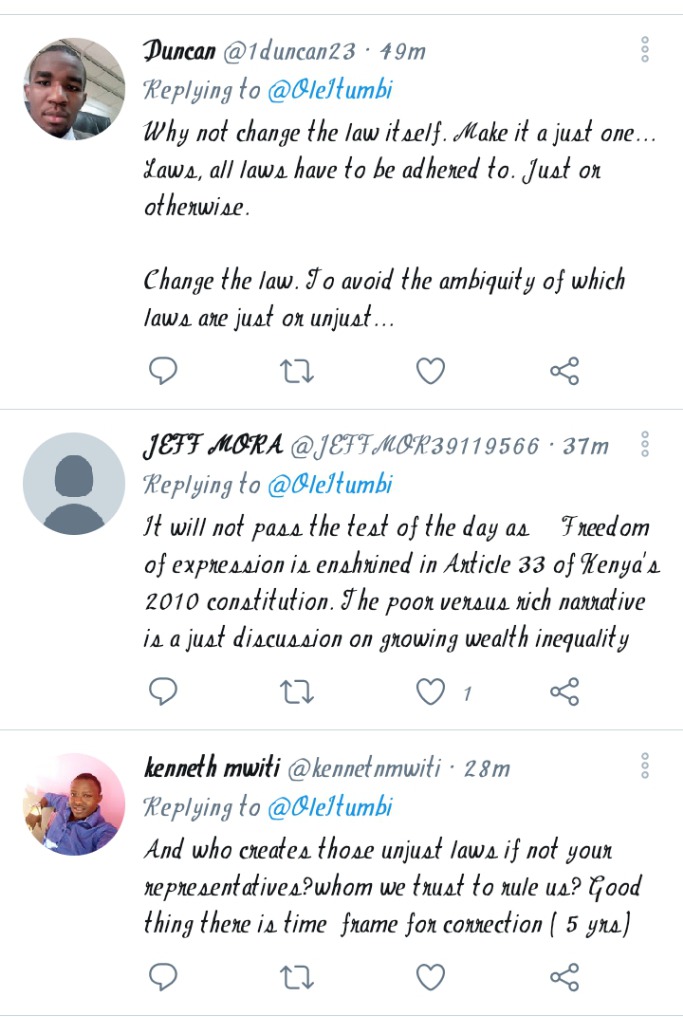 Paul:I think that we are taking some issues to far. Will I as priest be accused of discrimination when I say that the rich in Kenya will continue being rich while the poor will continue being unless, they themselves (the poor) arise and condemn the socio-political system?.
Paul:I think in my view such a thing should never be allowed to see the light of the day @NCIC_Kenya It is not a discrimination at all to say that in Kenya we have super rich people who are the minority and super poor pple who are the majority.
Karue:The irony is, every electoral cycle politicians on podiums proclaim to the masses that there are only two tribes in Kenya; the rich and the poor. Now that that discourse seems to be the deciding factor in 2022, suddenly it's classism.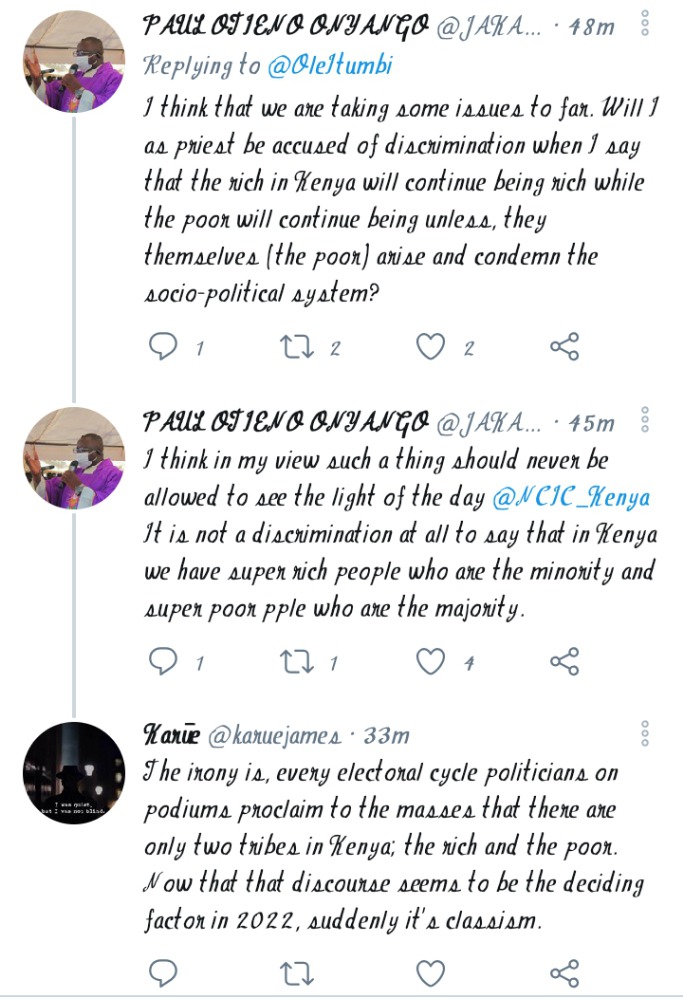 Content created and supplied by: +254HotNews (via Opera News )