Karl marx and Engels manifesto.
While addressing existing class struggles between the Burgeoisie(factory owners)and proletariat(workers). Karl Marx and Friedrick Engels in their communist manifesto of 1848 declared that; the materialistic capitalism was destined to be overthrown and replaced by first socialism and later by communism.

Karl marx
They prophesied that; the communist,the vanguard of working class constituted the section of society that would accomplish the abolition of private property and raise Proletariat to the position of the ruling class.

Friedrick Engels.
Even though Karl max and Engels were overly ambitious,their assessments were right,economic system of capitalism has created class of overly rich individuals who live in abundance and luxury at the expense of compact majority who languish in abject poverty. This is slowly degenerating into politics especially in Africa where their is wider disperity between those who have and those who don't have.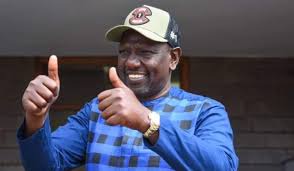 Dr.Rutto Deputy president of Kenya.
Dynasty vs Hustler narrative
Just like any other nation under the capitalistic system of economy, in Kenya only a few rich individuals control a vast amount of wealth while a solid majority toil daily to satisfy their basic needs. The deputy president has vowed to change the political narrative of Kenya to focus on the poor,to change the narrative of discussing political positions to issues affecting common man.
The Deputy president's narrative has made him fall out of favour by the members of rulling families(dynasties),who have accused him of radicalising the youths and some members of parliament. However the deputy president maintains that he won't relent until Kenyans become equal. The deputy president who is the son of unknown peasant farmer holds the view that;Kenyans are liberal minded and able to distinguish the lies being perpetrated by dynasties from truth being propagated by his narrative.
Africa is ripe for class struggles
Africa is youthful continent with an average age of 25 years. Moreover the unemployment rates among the educated youths is alarming. If African youths find a leader today tomorrow morning there will be a revolution. This is because the youths are feeling the pain of tough economic times,if African governments don't address youth unemployment,there is going to be political crisis and instability,because when the youth realise that there is no any other hope they will resort to restlessness.
Do you agree with me that if African youths found a leader today there will be a revolution tomorrow in the morning?
Please kindly leave your comments.
Content created and supplied by: Esadia.com (via Opera News )