1. Daily Nation 
Exams crisis over missing candidates: Where are they? Hundreds of students will not write their KCPE or KCSE national examinations because they dropped out of school at the eleventh hour. Head teachers cannot account for those who failed to report back in October. 
This year, some 1,187,517 candidates have registered for KCPE and 751,150 for KCSE. It was not possible to get official numbers of missing candidates from the Education ministry.
Raila's new dilemma on constituencies Great expectations: Can ODM leader Raila Odinga really deliver on a promise to dish out constituencies beyond those allocated in the BBI document?
Firirida composer has nothing to celebrate, yet As new craze sweeps through the country, Dik Munyonyi has only sad thoughts.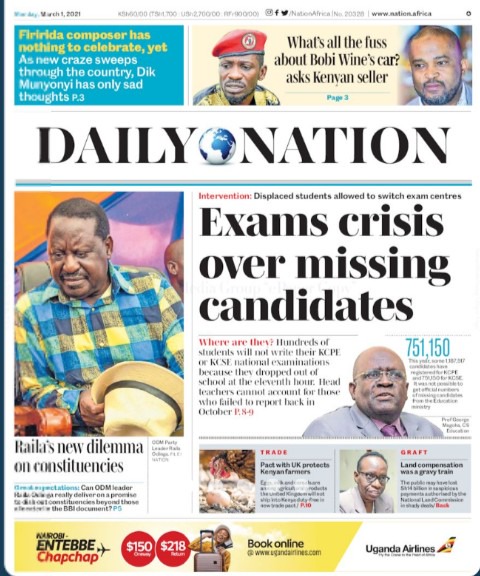 2. Business Daily
It takes Sh2.2 to join richest 1 percent of Kenyans: It now takes a net worth of $ 20,000 (Sh2.2 million) to break into the population of Kenya's top one percent by wealth, according to the latest Knight Frank Wealth Report The threshold means that the country's most affluent class is packed with prosperous pro fessionals and entrepreneurs.
With a Sh2.2 million thresh old out of reach of most Ken yans, it also demonstrates the country's relatively higher poverty levels and reflects Kenya's wealth inequality That amount of money is inadequate to afford a family a middle - class lifestyle in major cities like Nairobi which is traditionally associated with home ownership and consumption of private education and transport, among other services.
Teachers Push for new CBA: Kenya National Union of Teachers secretary General Wilson Sossion addresses the Press in the company of other union leaders after a meeting in Nakuru yesterday. They asked the Teachers Service Commission to expedite the negotiations to have a new Collective Bargaining Agreement and starteaming new salaries beginning July 1.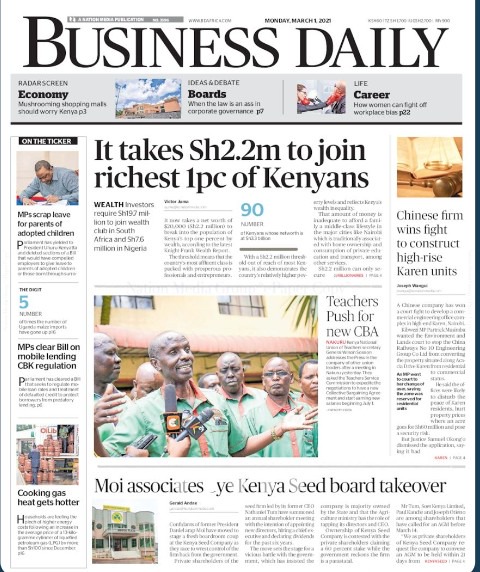 3. Taifa Leo
ODM leader Raila Odinga yesterday stepped up efforts to strengthen ties with religious leaders, insisting that he would not use superstitious powers to build himself up politically as claimed by his opponents.
For two months now, Mr Odinga has been campaigning for a 'purification' against his opponents' claims, especially Deputy President Dr William Ruto. Speaking yesterday at a church in Busia County, he insisted that he did not use magical tricks as alleged.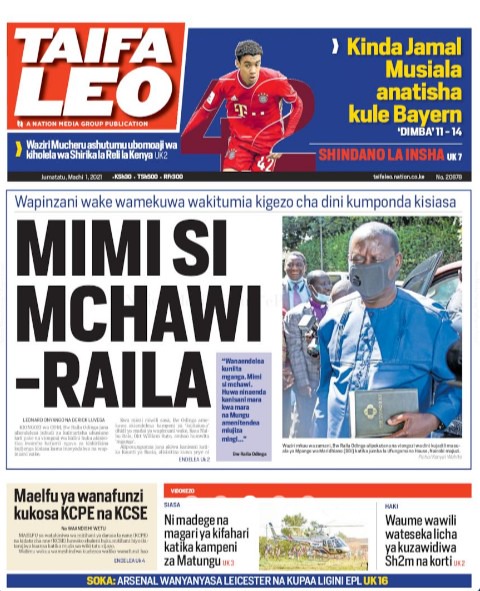 4. The Standard
Ruto answers Uhuru: Battle for Mt Kenya vote. After President Kenyatta accused him of raiding his backyard through the back door, DP Ruto returned to Mt Kenya yesterday and declared that nothing would stop him from touring the region because his name was on the ballot just like Uhuru's.
"A well - intended visitor uses the front gate and sits with the family patriarch to discuss a situation. Beware of the other one knocking on your bedroom window calling out your wife for a negotiation." -Uhuru Kenyatta at Sagina meeting. Ruto has now answered these remarks by the following statement "There are people who have issues with me when I go round the country, but I wish to remind them that my name was on the ballot and like Uhuru, I also took an oath of office. When I (tour), I'm only fulfilling my mandate. "- DP Ruto.
Karua new face of BBI 'No' campaign With over 40 counties okaying refors Bill and DP Ruto's reluctance to lead 'No' campaign Narc - Kenya leader emerges as leader of those against constitutional change.
Time running out for Form 4s to pick courses Selection. Authorities worried that many students may miss out on dream courses if they fail to select varsity and college courses.
A million Covid - 19 vaccines to arrive in Nairobi tomorrow Priority population. Health workers, security personnel. teachers, people with underlying health conditions and other vulnerable groups among the first to receive the jab as Health Cabinet Secretary warns against dropping guard. 
What awaits Raila in Coastal tour ASODM bosses to the Coast, hewilfind that a lot has changed naregon he counts asis stronghold. He will have to work harder to reclaim his position.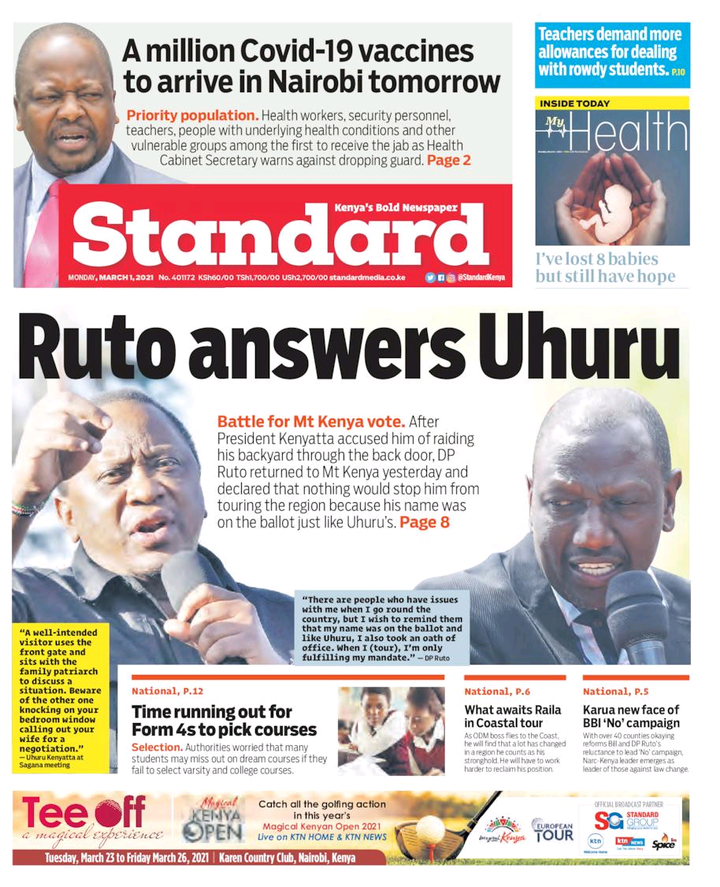 5. People Daily
Hope at last as Covid-19 jabs land in 24 hours: Covax vaccine expected in the country, offering hope to Kenyans, as MOH continues to report more cases as well as new fatalities. Kenya is set to receive one million Coronavirus vaccine doses which will arrive in the country tomorrow. This is nearly a year since the zero coronavirus patient was reported.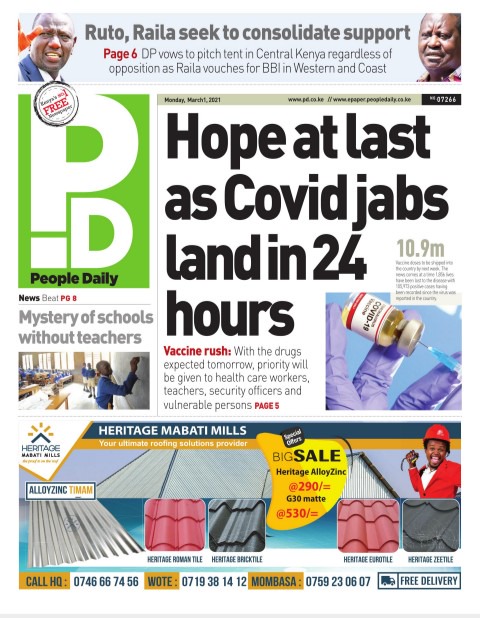 Content created and supplied by: Explanation (via Opera News )