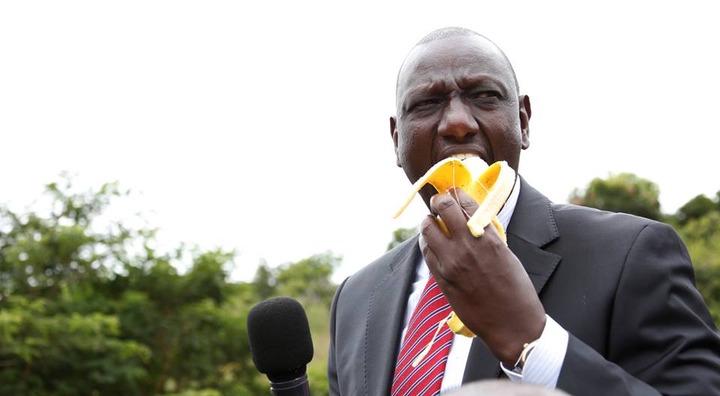 The deputy president William Ruto is one of the key aspirants to watch in the coming polls in 2022. He himself says he has been helping big people like ( Raila in 2007 and Uhuru in 2013) now, he has drawn his attention to the common citizen.
Photo: An artist Impression of Ruto Holding the Realm
Accordinng to Hermann Manyora ( professor of Political Science at the University of Nairobi) William Ruto is best placed to become the 5th president of the republic of Kenya. Manyora states a number of facts behind his argument.
1) Ruto has been Underrated.
Basing his argument on a football match, the team that underrates an opponent is most likely to suffer from disappointment. Similarly is Political environment, no one should be underrated.
The president or rather the Handshake underrated Ruto's efforts to win or take Mt Kenya via the back door, that's why the president was silent all along until the Kang'ata Letter came in to reveal the harm that Ruto's works has so far caused to his stronghold.
Having realized that indeed Ruto is a restless man, Uhuru has been forced to arrange for many meetings at Sagana State lodge to try cancel out Ruto's effect in Central. Reversing the condition is not easy for Uhuru, especially with the Raila factor.
They did also underrated him during the Msambweni By Elections. Who knew that the Hustlers camp would emerge victorious.
2) The Handshake's Blunders
Accordinng to the political guru, the first Handshake blunder was made by Atuoli at Uhuru park. Atuoli unexpectedly declared that the president is too young and will not anytime retire from active politics.
Accordinng to Manyora, this statement made people to rethink about Uhuru's desire to lead. Does he want to lead so as to help Kenyans or just because of his greed for power?. This statement alone derailed BBI marketing affairs.
Basing on Atwoli statement, Kenyans now think that the BBI is all about power sharing matrix between Tinga and Raila. This is because the BBI was born behind closed doors. This may give Ruto higher odds against Uhuru's chosen successor yet to be mentioned.
3) Sympathy Votes
The president and the deputy president entered into an agreement before they decided on the roles everyone would play in 2013 general elections. Ruto was to Succeed Kenyatta as Jubilee's choice.
However the betrayal that befell our brother from Sugoi has left many Political caring hearts broken. To be denied power accordinng to politicians hurts a lot, it's like all your dreams have been shattered. Now Ruto has fought hard against the Handshake combined efforts, some Political caretakers feel they should just be in his team
Content created and supplied by: DailyDigitalJournal (via Opera News )