The oil prices has been steadily increasing over the recent past. March 14 the oil prices diesel and petrol price increased with more than 6 shillings which made the transport cost to go up .
To further on this the speculation on various platforms indicates that government plans to further increase the oil prices by six shillings.
Kiharu member of Parliament Ndindi Nyoro on his post protest against the act of increasing the oil prices after Kenyan government imposed tough directives which led to majority of Kenyans to lose their jobs.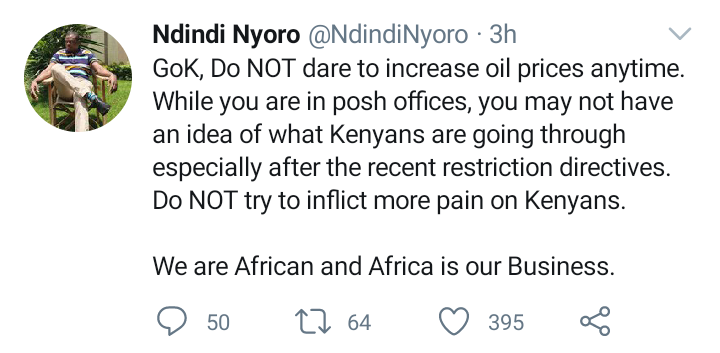 The Kiharu member of Parliament dared the government not to dare and increase the oil prices as speculated by media houses. The mp says that the government officers are leading good lives as Kenyans live in pains.
The mp blames the government for imposing restrictions which subjected majority of Kenyans in harsh pain and the government should not plans to again add the burden to the kenyans by increasing the prices oil . The 15th address of the president on corona virus locked five counties where no one is expected to enter or leave the counties, curfew starts at 8 pm and bars and restaurant had also tough conditions to meet. This made Kenyans to lose job as employers reduced the number of workers in some factories.
Increasing the oil prices now means that the fare is going to increase, products are going to shoot up and this will be hard for common Kenyans to afford it.
Content created and supplied by: The_Press (via Opera News )