Hallo and welcome to today's newspaper review.
1daily nation.
The Daily nation's main headline dwells on Kenya's debt levels and financial troubles where international monetary fund (IMF)has swung into action by lending the gorvenment more money but with conditions.
The Conditions are likely to make life more difficult for the common mwananchi as taxes are set to increase. Together with job cuts, the life of an average Kenyan will only become more difficult.
The paper also reports of a looming teacher shortage as the new curriculum CBC gets underway. Currently the first corhot of learners is at grade four and they are expected to join junior secondary schools in 2023.
The nation projects a teacher shortage of 60000 in secondary schools who will be hosting the junior section.
Nation also reports on the devision among the leaders on the move to criminalize hurstler versus dynasty talk. If the amendment proposed is paseed, those found propagating the hurstler narrative will be jailed or pay a fine of ksh 5million.
And finally on the nation, MCA's fault the decision by KRA to tax their car grant saying that it will affect their bid to have cars of their choices.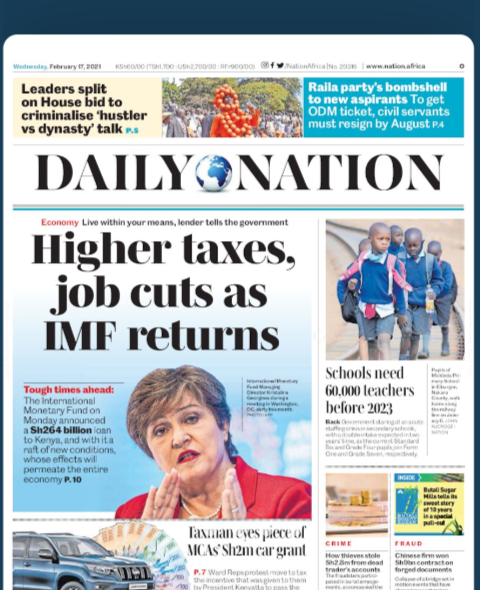 2 Taifa leo
The Swahili publication's main headline is about the cost of teagas the gorvenment would use to tame Raila's demonstrations in 2017.
Interior ministry has revealed that the government would spend up to ksh 20 millions to buy teargas and equipe the police inorder for them to handle demonstrators. That money is now being used to do something else constructive.
BBI is passed by six more counties is another report on the front page of Taifa Leo. The latest to pass the bill include Trans-nzoia and Busia.
In yet another story, four people have been arrested for allegedly steeling ksh 3.5 million from the dead.
And finally on sports, don't forget to catch the live action when borusia Dortmund meets Juventus in their last 16 UEFA champions league match.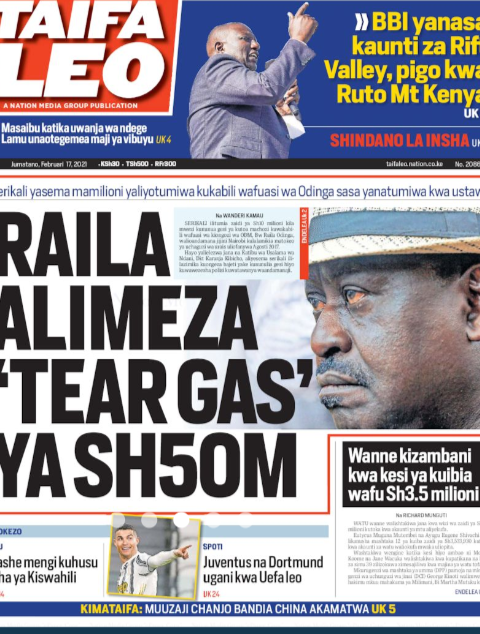 3 the Standard
The main headline on the standard is about the looming Coalition between Musalia Mudavadi, Kalonzo Musyoka, Gideon Moi, and Moses wetangula. The three have decided to walk together ahead of 2022.
The paper also reports how kenya found itself into a deep debt hole by giving you a blow by blow account of the bad fiscal decisions that were made whose impact is now being felt.
And Finally on the same paper is a success story on how butali sugar In western has managed to establish itself as a reliable producer of the basic commodity even as other millers experience difficulties.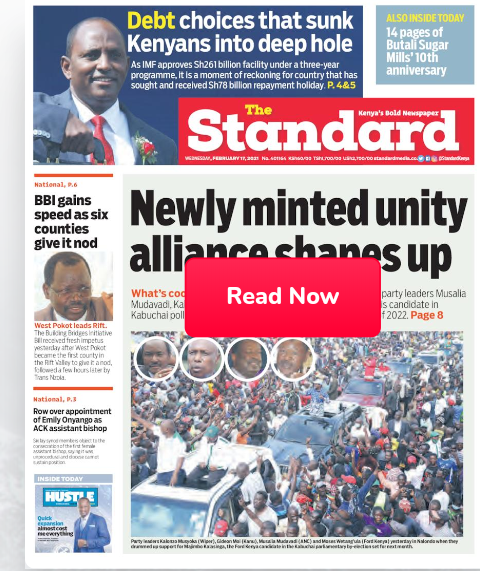 4 businese Daily
The daily's main headline focuses on safaricom's bid to enter into Ethiopia market where it has made it to the shortlist stage. Kenya's listed company had applied to offer Services in Ethiopia and if it succeds, that will be it's first move of going international.
On another Story, Mombasa, kisumu and malaba border will be fully connected by September giving travellers hopes of nonstop sgr use. For these and more other stories grab yourself a copy of your choice.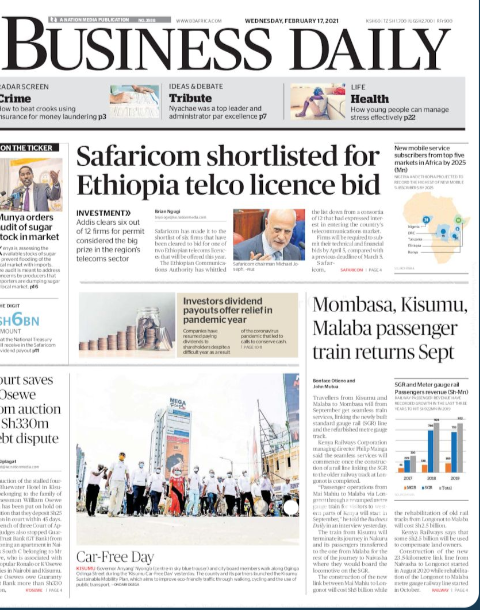 Do you think the new Coalition shaping up should give Raila and Ruto sleepless nights? Feel free to share your thoughts and comments on this on our comments platform.
Content created and supplied by: @yokeabu (via Opera News )