Mount Elgon constituency MP, Fred Kapondi, has urged the public to beware of scams claiming to be the MP and that they could give young people jobs in the military Forces.
This comes just days after a resident received a call from a fraudster claiming to be Mount Elgon MP Fred Kapondi, and would like to register his son to join the KDF, a position he claimed to be a unique .
Following residents' complaints, local MP Fred Kapondi urged residents to be on the lookout for the scammers, saying he had already filed a report in the intelligence office in Parliament so that the scammers could be prosecuted.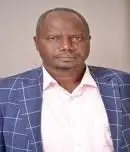 According to one resident who spoke to the Kenya News Agency Yesterday claimed the fraudster had demanded cash from him Kshs 9,000 to be used in the process of registering his son.
It was alleged that one of the scammers is a prisoner in Kibos prison in Kisumu county and the other is in Nyamasaria prison in Kisii county.
The incidences in relation to scammers cheating the residents demanding some cash from them while using the politicians' names have on the alarming rate in the recent days countrywide. 
He also urged political activists in the  area to adhere to their policies and instead stop deceiving residents following the electrification plan in the area saying he is in the process of fulfilling his role as a member of parliament for the area.
Content created and supplied by: [email protected] (via Opera News )