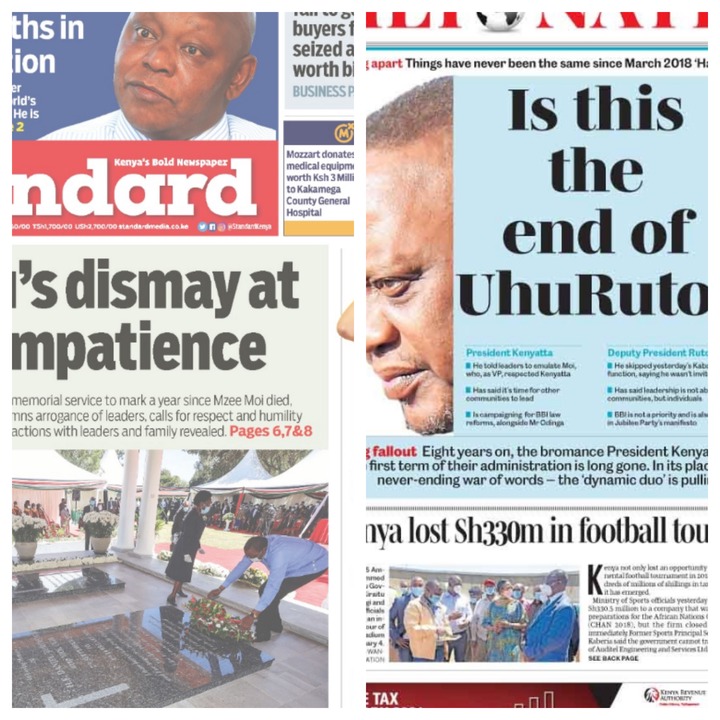 Nation:
Is this the end of UhuRuto? Big fallout: Eight years on, the bromance President Kenyatta and DP Ruto had in the first term of their administration is long gone. In its place are rival camps and a never-ending war of words - the 'dynamic duo' is pulling no punches P.4.
President Kenyatta
1. He told leaders to ensutate Moi who, as VP respected Kenyatta. 
2. Has said it's time for other communities to lead. 
3. Is campaigning for BBI Law reforms alongside Mr Odinga.
Deputy President Ruto
1. He skipped yesterday's Kabarak function, saying he wasn't invited. 
2. Has said leadershipis not about communities, but individuals. 
3. BBI is not a priority and is also not in Jubilee Party's manifesto.
Sonko to spend five more days in cells: Embattled former Nairobi governor Mike Sonko will spend five more days in custody after two magistrates declined to give a decision on whether he should be freed /PS. 
Uganda's Ongwen convicted by ICC: The Hague judges say prosecutors had proved 61 crimes against Ongwen out of the 70 he was accused of committing /P24
Kenya lost Sh330m in football tourney scandal: Kenya not only lost an opportunity to host a continental football tournament in 2018, but also hundreds of millions of shillings in taxpayers money, it has emerged. Ministry of Sports officials yesterday said they paid Sh330.5 million to a company that was to help with preparations for the African Nations Championship (CHAN 2018), but the firm closed shop almost immediately. Former Sports Principal Secretary Kirumi Kaberia said the government cannot trace the owners of Audiitel Engineering and Services Ltd. SEE BACK Page.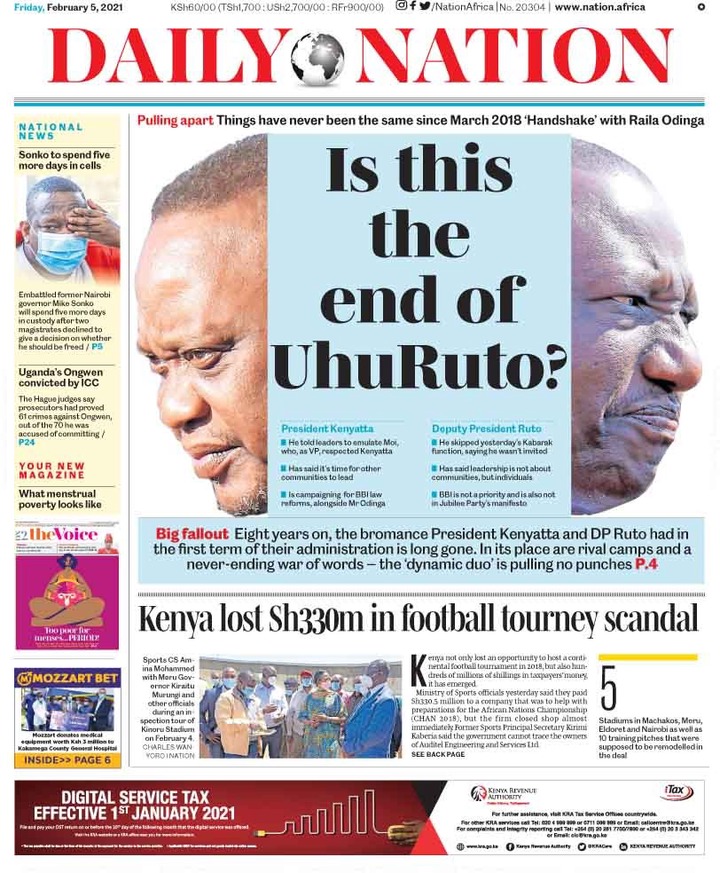 Standard:
Uhuru's dismay at Ruto impatience: Political hygiene. At a memorial service to mark a year since Mzee Moi died, President Kenyatta condemns arrogance of leaders, calls for respect and humility. > Secrets of Moi's interactions with leaders and family revealed. Pages 6,7&8.
Exclusive: Gicheru's three months in ICC detention. Justice - For 93 days, lawyer brushed shoulders with world's most dangerous criminals. He is back to tell the story. Page 2
Raila upbeat as BBI picks up momentum: Rejuvenated - Bolstered by first endorsement from Siaya County, ODM leader predicts a clean sweep in more than 24 counties before end of month.
Cancer: Ailing woman gives up her children. Pushed to the edge by ravaging disease, mother makes the difficult decision to surrender her children to a home.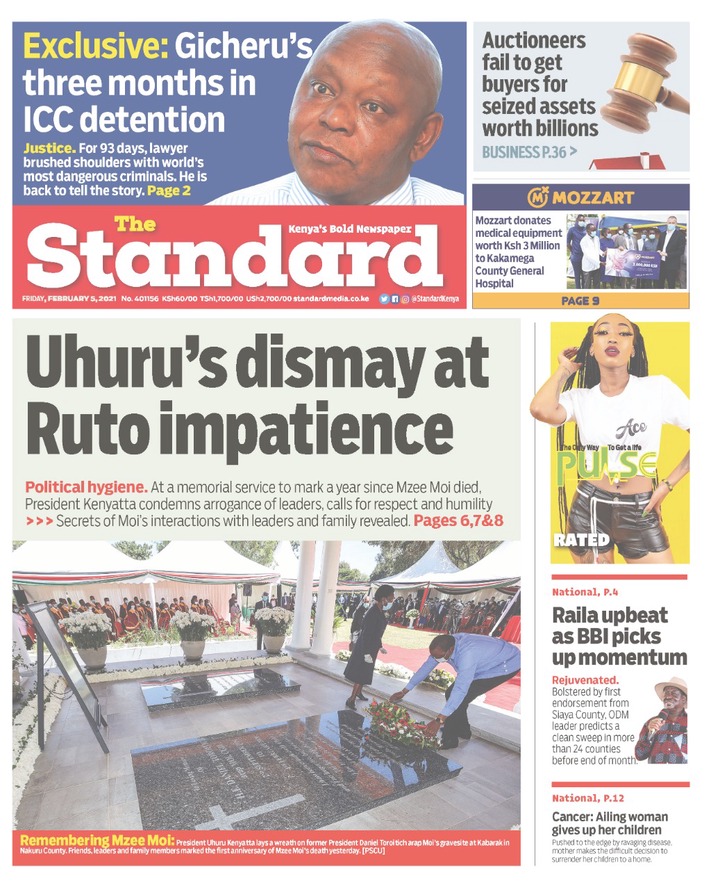 Content created and supplied by: Otieno_News (via Opera News )