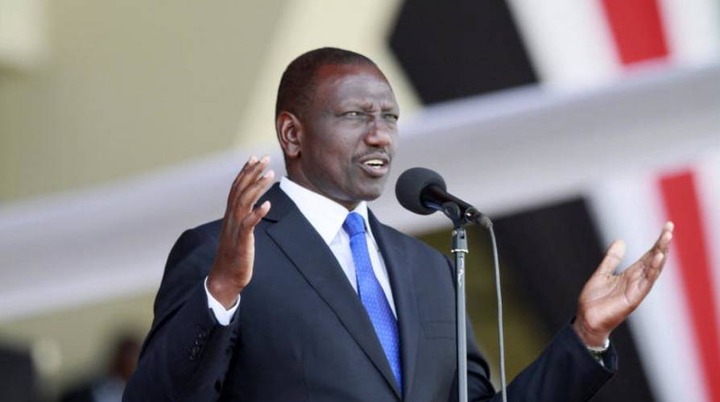 Today Dp Ruto took to Social Media to Express his Disappointment with Devastating and spike in cases and deaths in the Country. The second in command has called upon the Govt to escalate on response in Fighting the Pandemic by Focusing on Protecting health workers
"We are devastated by the unrelenting COVID-19 deaths in our country. We must escalate our response in confronting the pandemic, with a particular focus on protecting and appreciating our frontline healthcare workers." Dp Ruto
Dp Ruto also mourned Senior Medical Officer, Dr Patel who succumbed to the virus. The Departed was a Dental Surgeon. The Second in command send his heartfelt Condolences to Friends and Family of the Departed
"Our thoughts are with the families and friends of Dr Nira Patel, a dental surgeon, and all medics who have lost their lives in this outbreak. Rest In Peace" Dp Ruto Tweeted
However, His message was met With Fury From Kenyans who pointed out that the Second in command pulled large gatherings Together in the middle of A Global Pandemic
Kenyans want him to apologize for risking lives of Thousands of Common Mwananchi. The large gatherings flouted MoH Guidelines and Protocols on Mitigation measures; there was no social distancing and wearing of Masks.
Kenyans want him to stop hypocrisy and be accountable for what happened and same time Implement ways to mitigate further spread. They argue that it's high time for him to rise up
Reactions From Kenyans on Facebook
Arnold Karani Donald: Stop hypocrisy coz u are the same person who never followed MOH directives and continue with rallies country wide as well as Karen not we don't want crocodile tears and pretence that you are condoning with the families of our fallen heroes and heroines. May there soul rest in eternity. 
Patricia Wamuyu :Even God will not close his eyes for your deeds this time. All those lives lost because you wanted a reason to pause BBI by holding rallies in the midst of a pandemic. Shame on you. 
Mum Glory Gloria: When you hear doctors dying just know many ordinary Kenyans are dying in thousands 
Eng Nelson Namtala :You have the powers as Dp , don't keep on lamenting just account
Shadrack Kamlesh Malela: Your defiance escalated the spread. Was it ignorance? You're too egocentric. 
Kim Joe :You are the dp and we can see you know what is supposed to be done.
Kivuva Nicodemus :And your contribution to stop it's spread is blogging? 
Mzungu Aggrey :see who is talking after spreading wheelbarrows and mikokoteni inform of coronavirus with the help of bbi on the other side now here you are yapping.... mungu asamehe politicians wa kenya 
Humphrey Njoroge: IRONICAL considering you have been traversing this country spreading it. 
Immaculate Aluse:The only problem with slow learners is, they realize things when its too late. You need to apologize to all hustlers coz you made us believe Covid-19 was Baba/Jaydens project. RIP Patel 
Mancharlo Junior Nyamori:You contributed to the huge spread of this virus when you disregarded MOH safety guidelines. You are a super spreader so kindly please wacha hii machozi ya mwewe.. 
I m sure you are celebrating,the numbers are being reduced in the regions you anticipated. 
But Deputy are you not the one who boycotted the president's COVID1 9 conferences with Governors , you instead held mammoth rallies across the country when we were praying 
Solomon Kuria: You need to apologise to Kenyans for all the rallies you held with total disregard to Covid 19 guidelines. R.I.P Dr Patel. 
Content created and supplied by: MJcreativez (via Opera News )