Garissa Township MP Aden Duale has opened up on reasons why he played low after being kicked out as National Assembly Majority Leader.
In an interview with KTN News on Wednesday, Duale defended his silence and revealed intrigues surrounding the rise and fall of Jubilee Party.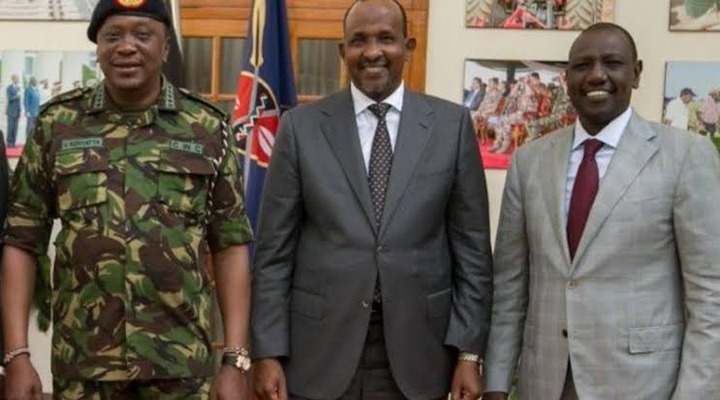 President Uhuru Kenyatta(left), Aden Duale (Left) and Deputy President William Ruto (right). [PHOTO:Courtesy]
According to the MP, he has built a cordial relationship with prominent leaders in the country including President Uhuru Kenyatta, his Deputy William Ruto and the ODM leader Raila Odinga, therefore, he has no luxury of hurling insults against either of them baselessly.
"I am a very seasoned politician. I don't just say things for the sake of it. I weigh whatever I say.
The MP also revealed he had a lengthy chat with Uhuru when his era as majority leader was coming to an end where he realized the President was under pressure.
When asked whether he was playing safe he added, "playing same what? One of the reasons why I left that seat, and for your information, I had a 45 minutes chat with the President and I looked at his eyes and saw he was under pressure and I said I am not ready to join any group that wants to humiliate the office, the character and the person of the Deputy President," he said.
But what a journey Garissa Township MP had in Jubilee Government?
Apart from President Uhuru and his Deputy Ruto, Duale's stint as Majority Leader at the National Assembly saw him ranked the third powerful man in the eyes of public opinion.
His first term in office was not a walk in the park, given the formidable opposition that existed between 2013 and 2017.
Nevertheless, the Garissa Township MP succeeded in nearly all tasks as the leader of Government business, save for few mandates like the gender rule, thanks to the numbers Jubilee Government enjoyed at the National Assembly.
And just for the record, during his era, over 200 bills and 500 motions were passed in Assembly.
When it seemed the Handshake deal could have given him copacious room to breath a sigh a of relief, to discharge his mandate as he sips coffee, things turned for the worse.
As President Uhuru courted ODM leader Raila Odinga and quelled constant insurrection on one hand, Duale's favorable man, DP Ruto, was being elbowed out of the Government on the other.
Duale being part of the team that somewhat expressed doubts on the Handshake deal knew what Raila was capable of.
True to their suspicion, the DP and his boss are political nemesis, apparently, thanks to the Handshake.
The dwindling relationship between the DP and his boss Uhuru Kenyatta saw Duale kicked out of office for not toeing the line of the President and instead choosing to dance to the Hustlers' Narrative melody.
It was no longer untenable to keep him as his master, the DP, had become an enemy within
Here is the Video From 6:45 minute
Content created and supplied by: Calender (via Opera News )