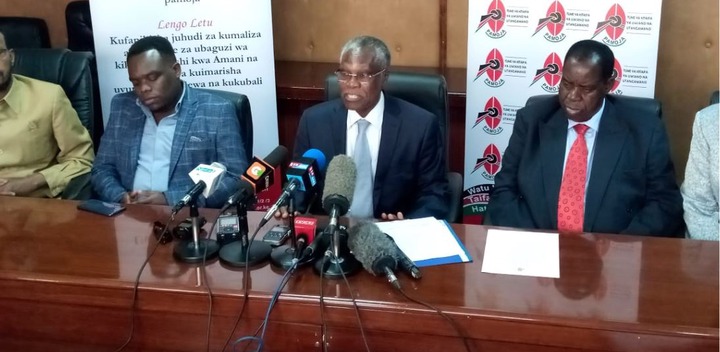 The main message of the statement that the commission was urging Kenyans to desist from decisive politics ahead of the 2022 general elections.This is from how recent political dramas have raised alarm to the deterioration of adherence of national values and tolerance.The commission feels that the country is being subjected to premature campaigns that at some point lead to violence as witnessed in Burma market in Githurai and the recent incident that happened in a funeral in Kisii.
It further expresses a sense of sadness and disappointment from politicians and their followers who are preaching negative politics.Politicians who fight and insult each other in public have been reminded that such acts are insults to the people who voted for them.
Youths have been given a sturn warning that they shall be held accountable to their violent actions and hence have been urged to resist being recruited by politicians as goons.Those leaders using and taking advantage of the vulnerability of youths are also being eyed on.
Political parties have been called upon to take action to the leaders contravening the code of conduct hence playing critical roles in making democracy a reality.
The commission raised a concern that the current political climate can lead to violence like that of 2007-2008 hence creating mistrust and animosity among those living in peace.
A sturn warning has been given to those who spread hatespeech and incitement to violence on social media platforms as it has a sophisticated technology with the ability to fish them out.
Furthermore,the commission stated that it is working together with IEBC,EACC,Registrar of Political parties,DPP and DCI in dealing with such malicious acts.
A national symposium is also being convened for Kenyans to discuss issues that will lead to peaceful elections in 2022.
Last but not least,the commission came up with names of politicians on the list of shame and fame pursuant to NCI act 2008 Section(2b).Mike sonko, Johanna Ng'eno,Simba Arati and Silvanus Osoro appeared on the list of shame.On the other hand,Charity Kathambi and Mohammed Osman were considered as preachers of peace on the list of fame.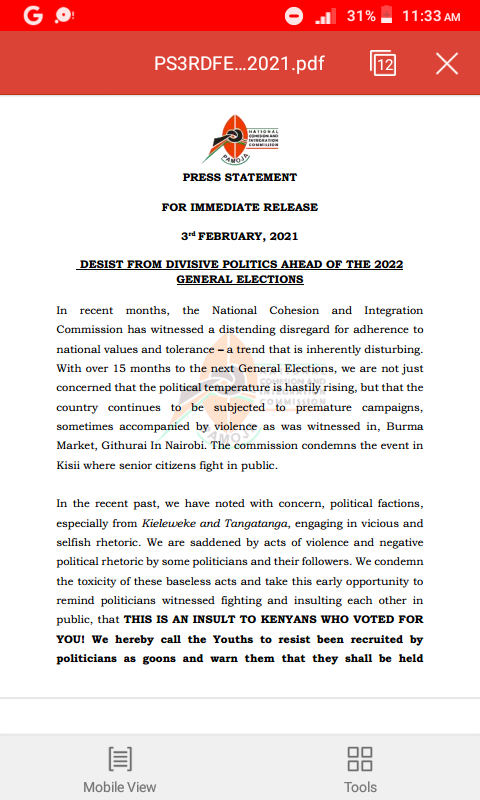 Content created and supplied by: Agany (via Opera News )