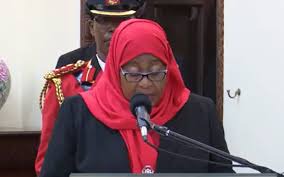 We have had a wonderful experience to witness live events taking place in Tanzania concerning the late president Pombe Magufuli .We have noticed that Tanzanians give their speeches in pure Swahili language.Swahili is the official language in Tanzania and they speak it so fluently.
Here in Kenya we mix both Swahili and English thus ending up not perfecting our speeches.Apart from the upper class who are used to speak English, a huge number isn't able to speak fluent English.In the case of Swahili we can't debate about the fluency.Our is a bit low compared to the one of Tanzania.
When giving speeches in Tanzania we don't expect anyone to be left behind since everyone can hear Swahili even those who didn't go to school.But here in Kenya only those who went to school can hear what our leaders say.Do you think we should embrace the Tanzanian style and put more effort in our Swahili instead of English?
Content created and supplied by: Marcusking's (via Opera News )