COTU Secretary General Francis Atwoli has today broken his silence after the 24 County Assemblies out of 47 County Assemblies okayed the Bulding Bridge Initiative (BBI) Bill earlier today.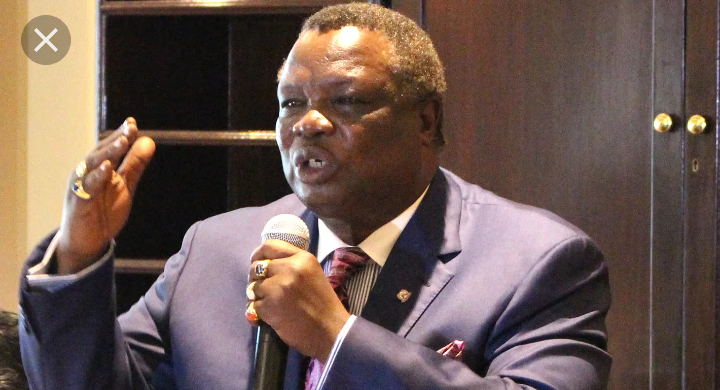 Photo; COTU Secretary General Francis Atwoli.
This is after more than 19 counties today passed the Bill and brought the number to more than 31 counties, and this passed the 24 mark which was the threshold for the Bill to go to the Parliament en route to Referendum come June this year.
Taking to his Twitter account, the vocal trade unionist took pride in his power of prediction after posting a screenshot of his earlier prediction this month.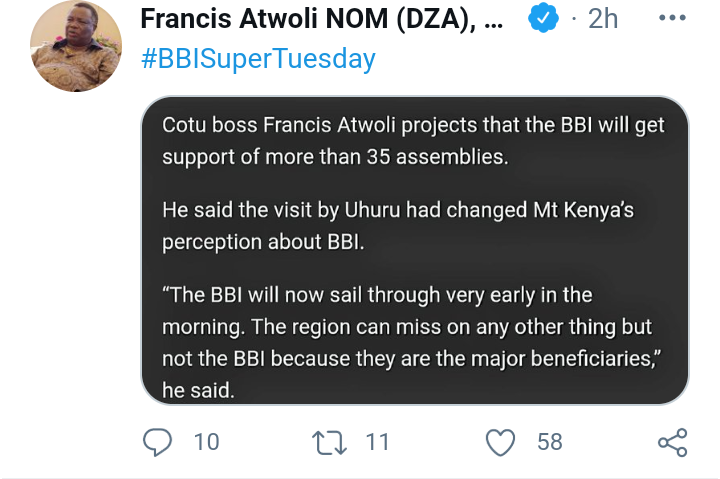 Speaking to the Standard Newspaper, he said that BBI Bill would be okayed by more than 35 County Assemblies.
Francis Atwoli also predicted that the BBI would be massively supported in the Mount Kenya region, despite the earlier letter penned by Murang'a Senator Irungu Kang'ata to President Uhuru Kenyatta claiming that the BBI was unpopular in the region.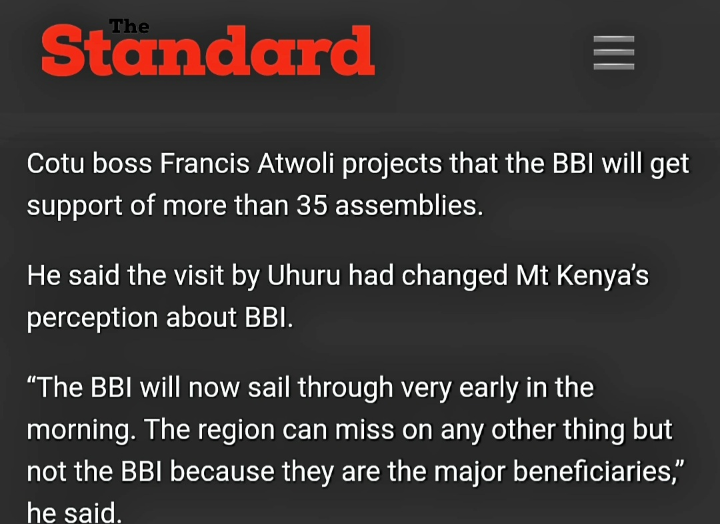 Image; courtesy
The COTU Secretary General said that the region would overwhelmingly vote for the Bill without failure because they are the ones that will benefit the most from the proposals.
He said " The BBI will now sail through very clearly in the morning. The region can miss on anything else but not the BBI because they are the major beneficiaries."
His post comes after the Mount Kenya Counties of Kiambu, Nyeri, Kirinyaga, Murang'a, Tharaka Nithi, Laikipia and Meru have already voted yes for the Bill and he's got it right.
And with more than 31 counties having already okayed the BBI Bill, then it's more likely that his 35 prediction may be realised.
Atwoli accompanied the post with the #BBISuperTuesday which was coined by ODM Party leader Raila Odinga who had earlier said confidently that the BBI would have received support of 24 County Assemblies by Tuesday this week.
The COTU Secretary General has always marvelled many by his power of predictions especially in the political scene, and this is not the first time that he has gotten it right.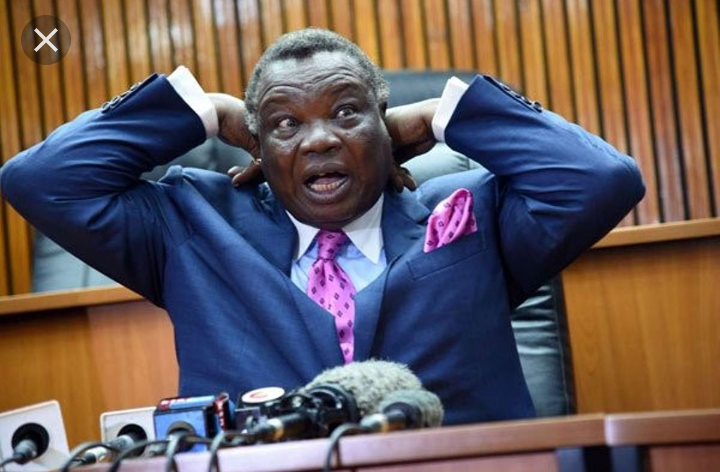 He actually was credited for foreseeing the March 2018 handshake between President Uhuru Kenyatta and his BBI counterpart Raila Odinga amidst the then political tensions in the country.
However, among Francis Atwoli's major predictions that he got wrong was the one where he predicted that former US President Donald Trump would retain his seat, and this was not the case with President Joe Biden winning the elections.
Content created and supplied by: Whizerwriter (via Opera News )