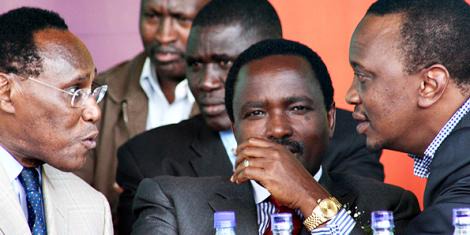 The former assistant minister of Agriculture and member of Parliament for Kajiado North Constituency - John Keen once gave a narration on how a day at statehouse almost ended in a fist fight between Uhuru Kenyatta and Uhuru Kenyatta.
The uhuru Saitoti feud was an open one. The disagreement began when Kenyatta, who was the official opposition leader under KANU flag fielded a rival Candidate in Kajiado North Constituency and supportted an ODM candidate for the Same seat ( Ole Sakuda ).
On the other hand, Saitoti despised Uhuru as an inexperienced Political youth hand-picked by Moi to flag KANU in 2022. Their conflict reached a boiling point in 2007 when Saitoti heard that Kibaki was planning to endorse Uhuru again as his prefered Candidate once his term ended.
Saitoti then teamed up with Raila to wipe out any chances of Uhuru being appointed by Kibaki. Tensions then mounted when Ocampo named six suspects of the post Election violence Uhuru among them. Ocampo indicated in his letter that, the issues would be dropped if the assurance was given that the issues would be solved locally. The letter containing this Information never reached statehouse.
President Kibaki got the word from rumors. He then convened an interministeral committee to lias with the ICC so that the cases would be solved locally. The Committee was headed by Saitoti and Uhuru who was the prime minister to Statehouse. Uhuru during the meeting angrily accused Saitoti of hiding the letter from Ocampo, he alleged that Saitoti wanted him prosecuted in the ICC.
A high tempered engagement ensued during the meeting reaching a point where the two almost traded blows. This prompted Kibaki to end the meeting, the committee reportedly never met again.
Content created and supplied by: BEATKING (via Opera News )