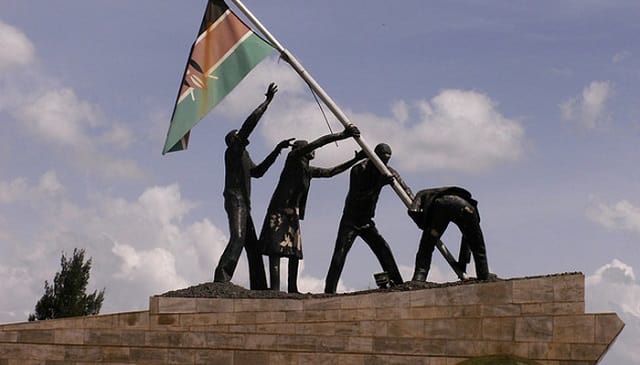 On December 12, 1963 Kisoi Munyao went down in the books of history after he hoisted the Kenyan flag on Mt. Kenya.
It took courage, true statesmanship and patriotism for the Kamba man to withstand the coldness of the mountain just to hoist the national flag. The history of this nation is incomplete without mentioning his name.
The hoisting of the Kenyan flag marked the end of the colonial rule in this nation. Munyao, who died in 2007, was a renowned Mountain climber. The celebrated hero passed on at Kenyatta National Hospital, on March 22 2007, after suffering from pneumonia at age 73.
Upon his death, Munyao was laid to rest at his Makueni home; a burial that attracted people from all walks of life including Former President Mwai Stanley Emilio Kibaki attended his burial. 
On December 12, 2013, Teddy Mutuku , his son, took another step of courage to climb the same mountain to hoist a flag to celebrate his father and the entire nation during the 50th anniversary after independence
.With its three 3 peaks namely Batian, Nelion188 metres and Lenana, Mount Kenya is one of the historic tourist attractions in this nation.
Leave a comment and please follow for more news updates.
Content created and supplied by: MkenyaNews (via Opera News )