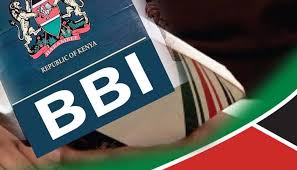 Over the recent past since the launching of the BBI, 'rumour' has been spreading in the country that the document has many shortcomings in comparison to the benefits.However on the launching of the report,the leaders who pioneered the report that is H.E Uhuru kenyatta and Hon Raila Odinga urged all Kenyans to read the document by themselves and make their conclusion and decide without any political interference.
The 'tangatanga' movement have based their argument majorly in a sense to look like the BBI is meant to increase the number of seats for the people in the political class.Well this brings me to a question I would like to ask you my dear reader,How do you feel when your favourite leader losses in an election? I know you will have that bitter feeling. Now what about eight million other people having the same feeling as you after every five years. I know that you my reader are a literate kenyan. Now what about that boy in the streets of Mathare who knows nothing about civilization? Ie the ability to respect each others opinions and decisions. Do you think that they will just give up without a fight? Therefore the taskforce having considered that this is a third world country, they decided to bring about inclusivity that each kenyan will feel part and parcel of the government. This will bring to a halt the borrowed idea of winner takes it all narrative.
It is also worth noting that the ministerial role appointed to the office will be under no additional salaries.
Content created and supplied by: Kimjob (via Opera News )