The World Health Organization (WHO) has announced an interim plan on how countries will be vaccinated against corona this year, with Tanzania and Burundi excluded.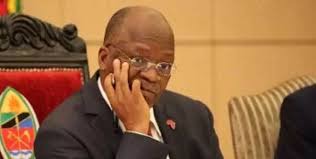 President Magufuli
 The WHO has stated that the 336 million doses of AstraZeneca / Oxford and Pfizer-BioNTech vaccines will be released for the first and second semesters of 2021.
 In this phase, countries will be provided with the equivalent of 3.3% of the population in each country in this program, in line with the global immunization target (GAVI) target of 3% of the world's population in the first six months of in 2021.
 Last week President John Pombe Magufuli warned officials not to receive corona vaccines which he said could have an impact on civilians.
 Following the increase in the number of Covid infections, the Burundian government recently announced a new anti-Covid-19 strategy, including the closure of water and land border patrols in crowded areas.
 In the preliminary list of vaccinated countries in East Africa, Tanzania and Burundi are not included.
 Other African countries that are not on the vaccination list include, Equatorial Guinea, Eritrea, Gabon, Lesotho, Madagascar and Seychelles
 The World Health Organization says that countries that are not on its list of corona vaccines are because they "bought their own vaccines, did not apply for vaccinations, or have not yet been included in the list of countries to be vaccinated".

Source: BBC
Content created and supplied by: GlobalTV (via Opera News )