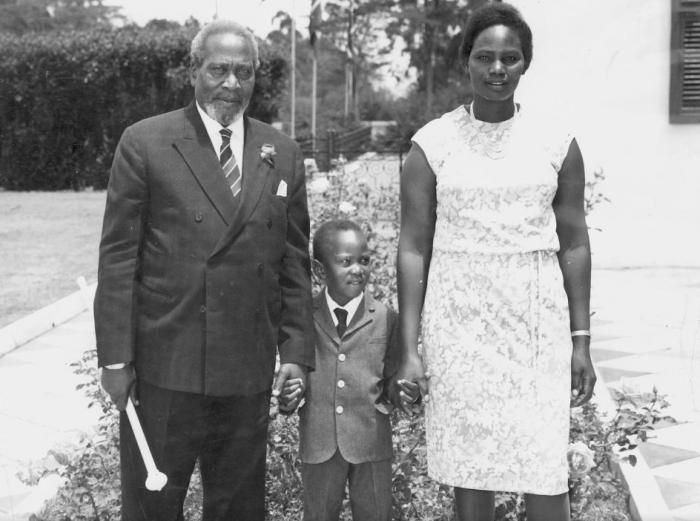 Uhuru Kenyatta, the current President of Kenya was born into a wealthy and politically powerful family.
Uhuru was born on October 26, 1961, in Nairobi, Kenya, to Jomo Kenyatta, Kenya's first President, and his fourth wife, Ngina Kenyatta.
Unknown to many Kenyans, Mzee Kenyatta had four wives with whom he had a total of 8 children.
Born Kamau Wa Ngengi at Ng'enda village, Gatundu Division, Kiambu to Muigai and Wambui, Jomo Kenyatta served as the first Prime Minister of Kenya as well as Kenya's first President.
In 1914, he was baptized as a Christian and given the name John Peter which he changed to Johnstone. He again changed his name to Jomo in 1938.
He adopted the name Jomo Kenyatta taking his first name from the Kikuyu word for 'burning spear' and his last name from the Maasai word for the beaded belt that he often wore.
In this article, we will look deeper inside the Kenyatta family line.
Jomo Kenyatta's 1st wife
In 1919, Jomo Kenyatta met and married his first wife Grace Wahu, according to the Kikuyu tradition.
When it became apparent that Grace was pregnant, his church elders ordered him to get married before a European magistrate, and also undertake the appropriate church rites.
On November 20, 1922, Kenyatta's first son, Peter Muigai was born (died 1979).
In 1929, Kenyatta had another child, a daughter, Margaret Kenyatta (she died in 2017).
Peter became an assistant minister for Foreign Affairs, and Margaret served as Mayor of Nairobi and later as Kenya's Ambassador to the United Nations.
Grace Wahu died in April 2007 at the age of 107.
Jomo Kenyatta's 2nd Wife
Kenyatta married his second wife, Edna Clarke on May 11, 1942, in Sussex England.
He had his second-born son, Peter Magana with Clarke on August 11, 1944.
Kenyatta left Edna in England when he returned to Kenya in 1946 to join the nationalist struggle.
Clarke died in 1995 at the age of 86. Magana lives in London after retiring from BBC after working as a producer.
Jomo Kenyatta's 3rd wife
Kenyatta married his third wife, Grace Wanjiku, in 1946.
She was the daughter of the Senior Chief Koinange and sister to Mbiyu Koinange. She died when giving birth in 1951.
Their daughter Jane Wambui survived.
Jane is the mother of Soiya Gecaga, Nana Gecaga, and Jomo Gecaga, who serves as President Uhuru Kenyatta's private secretary.
Jomo Kenyatta's 4th wife
His fourth wife, the best known due to her role as First Lady, was Ngina Kenyatta.
She often accompanied him in public. She bore Kenyatta four children: Christine Wambui (born 1953), Uhuru Muigai Kenyatta (born 1961), Anna Nyokabi Muthama Kenyatta (born 1963), and Muhoho Kenyatta (born 1965).
Mama Ngina lives quietly as a wealthy widow in Kenya.
Content created and supplied by: wanjogunewshub (via Opera News )